Jul 8, 2021
Elements Massage®, the Nation's leading massage brand that personalizes every massage to meet client needs, is opening a new studio in Hillsboro, Oregon on July 27, 2021, with an aggressive Founding Membership Offer, available only until August 31, 2021. The studio is independently owned and operated by Glenda Poletti, LMT, a Seattle local.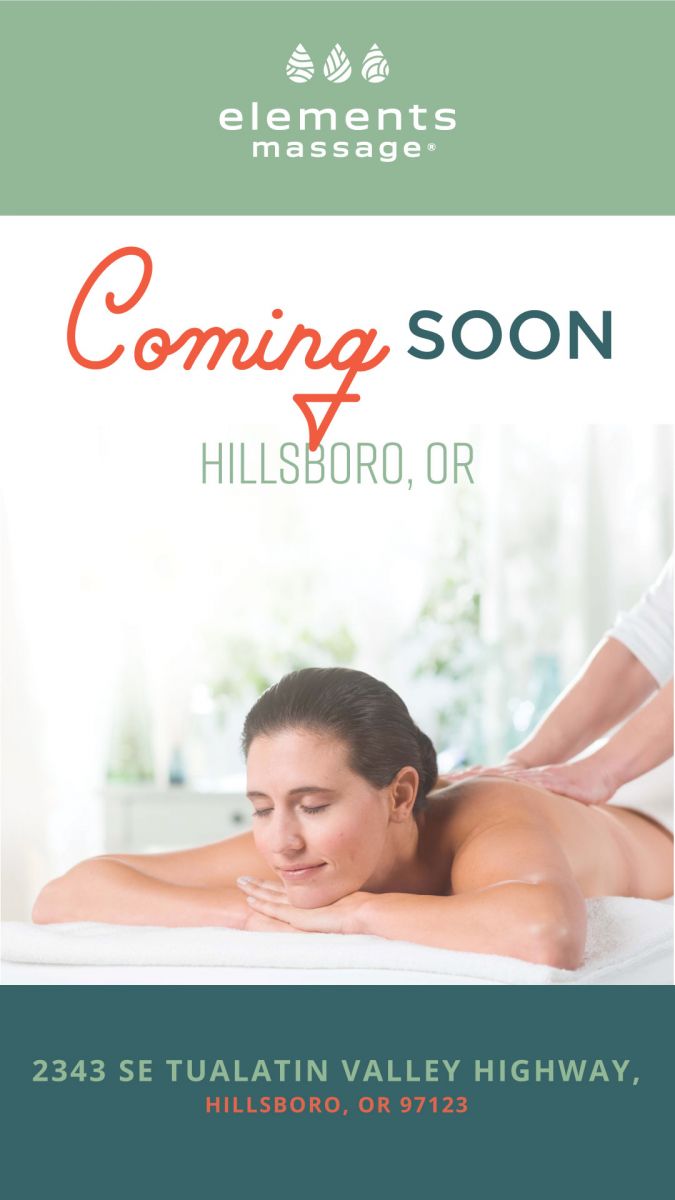 Prior to joining Elements Massage as a franchisee, Poletti was a sole practitioner in Issaquah, WA, working with massage clients one-on-one since earning her license in 1999. Realizing she could benefit from professional comradery and the continuous learning that happens when working with other like-minded people, Poletti decided to explore business expansion. Elements Massage values of improving the lives of everyone they touch resonated with Poletti, and she liked that the company was founded by a massage therapist. She bought her first Elements Massage studio in 2008 and hasn't looked back. She steadily grew her business from one studio in North Seattle, adding an Issaquah location in 2012. In 2017 Poletti acquired the Bellevue Elements Massage studio, followed by the studio in Tanasbourne, Oregon (Hillsboro), and is now adding the South Hillsboro, Oregon location.
"I knew I needed to work with others who valued this career choice as much as I did. I believed I could be better if I surrounded myself with people who wanted to continue to learn and grow and provide the very best care for people," said Poletti. "I considered opening an independent clinic but chose the support of a franchise system. Elements Massage was a natural next step because their values align with mine – making quality massage therapy convenient, affordable and accessible while helping other massage practitioners grow and develop their careers."
Notably, Poletti's Elements locations throughout Washington and Oregon have been awarded and recognized for their membership numbers, overall studio performance, and massage therapist attraction and retention, while Poletti herself has been recognized as an exceptional studio owner.
Franchisee of the Year, 2011
Franchisee Advisory Committee Member, 2017-present
Top 10 in Massage Therapist Retention, 2018
85%+ Net Promotor Score, 2018 – Tanasbourne
Revenue Cup Winner, 2018 – Highest Gross Sales Nationwide, Multi-Studio Owner
Elements Massage – South Hillsboro is located at 2343 SE Tualatin Valley Highway, Hillsboro, Oregon 97123. The studio is open seven days a week from 9 a.m. to 9 p.m. For more information, please call 503-336-3456 or visit elementsmassage.com/south-hillsboro
About Elements Massage®
Elements Massage® is one of the nation's premier massage therapy brands, with over 250 locations across the United States and Canada. Elements differentiate itself by providing consumers with a highly customized and therapeutic massage through its industry-leading membership program, the Elements Wellness Program™. The Elements Massage brand has been recognized as part of Entrepreneur's Franchise 500 Ranking, Inc 5000 list, Forbes list of America's Best Franchises and Newsweek's list of America's Best Companies for Customer Service.
Members at each studio benefit from a highly-rated massage service on a month-to-month basis. As a high-growth franchise brand, Elements Therapeutic Massage, LLC offers franchise ownership opportunities in select territories across the country. To learn more about Elements Massage® and franchise ownership opportunities, visit www.elementsfranchise.com.
###