Apr 29, 2016
Download "29 Tips for
Decluttering and Destressing":


Spring Cleanup Tips to Help you Organize and De-Stress
There are generally two big times in the year when housecleaning and de-cluttering become a priority – New Year's and Spring. Spring is here and cleaning is in full swing for many people looking to clear some space as summer nears.
Clutter can cling to us psychologically, making us feel disorganized, stressed and depressed. When these emotions take over, we can feel unproductive and have a difficult time motivating ourselves to do anything. Just looking at all the clutter, we tend to feel paralyzed with no clue where to start.
These are the behaviors Randy Wickstrom, who has appeared on the reality TV show "Hoarders" and is the owner of Purple Durple Organizers and a member of the National Association of Professional Organizers, sees every day. A specialist in clutter control, he says we are victims of consumerism. We buy bigger, better and more and when we run out of space, we become overwhelmed.
"I always tell my clients to start small," says Wickstrom. "For example, pick one spot in the kitchen, visualize what you want to achieve, and don't spend any more than 30 minutes to get started."
There are many ways to start organizing, and it starts, as Wickstrom points out, with having a plan of attack. He says start by making a checklist of small, specific tasks that you want to accomplish and schedule it like you would any other important appointment. Wickstrom borrows the SPACE formula (an acronym for "sort, purge, assign, containerize, and equalize) developed by New York Times best-selling author Julie Morgenstern. Wickstrom says SPACE makes organizing easy and helps people get started the right way.
"Sorting starts by determining what can be thrown away, donated, recycled or sold," says Wickstrom. "With each item, ask yourself, when was the last time you used it? If it's been used in the last month, find someplace to store it."
Then start purging and assigning a place for the remaining items. You can free up a ton of space by containerizing and Wickstrom says a great place to find inexpensive organizing tools is on Amazon.com.
The five biggest areas in the home people need to organize most are the kitchen, bathroom, garage, home office and closets. Wickstrom has a workshop for homeowners called "50 Nifty Tips for Spring Cleaning and Organizing" that he offers for each of these areas. Here are some of the highlights:
Kitchen
Hang your pots and pans
Use towel bars on the inside of cabinets to hang lids
Put magnetized spice racks on the inside of cabinet doors
Create spice drawers
Containerize countertops with baskets and serving trays
Use drawer dividers (before and after pictured below)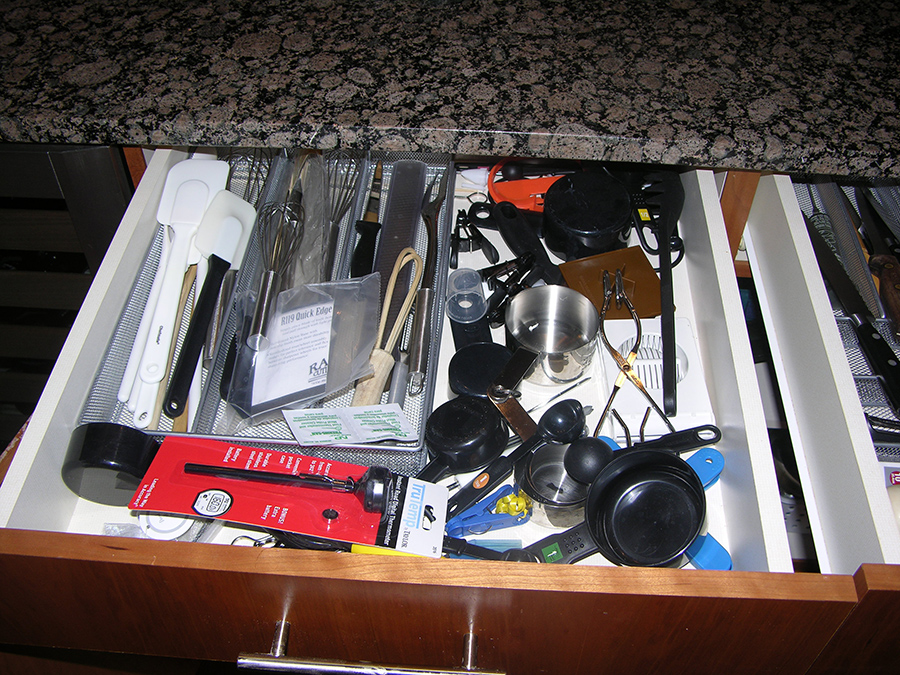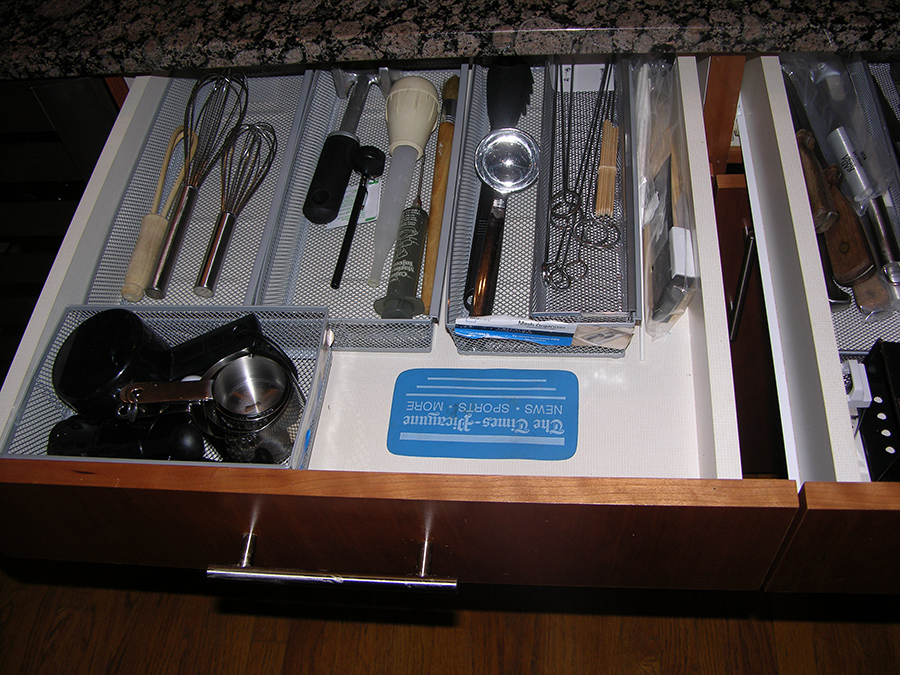 Bathrooms
Use wine racks and magazine racks to roll and store towels
Install towel racks and hooks on the inside of cabinet doors
Use corner furniture units for additional storage
Purchase shower curtains with pockets to store hair products
Install additional shelving over doors and toilets
Home Office
Containerize with baskets on the desktop
Go paperless with electronic bill pay
Wrap cords in empty toilet rolls
Read, Act on and Toss (RAT) all incoming mail
Closets
Use shower curtain hooks on hangers to hang scarves and ties
Hang boots off the floor with pant hangers
Color code clothes from light to dark
Keep a donation box in the closet
Line up shoes in the opposite direction or store in see-through containers
Garage
Label trash cans for bags of fertilizer, bird seed, kitty litter, ice melt, etc.
Install hooks and hangers and get items off the floor
Install over-the-door shoe organizers for paint cans and cleaning items
Create additional storage space with containers and wire milk crates (before and after pictured below)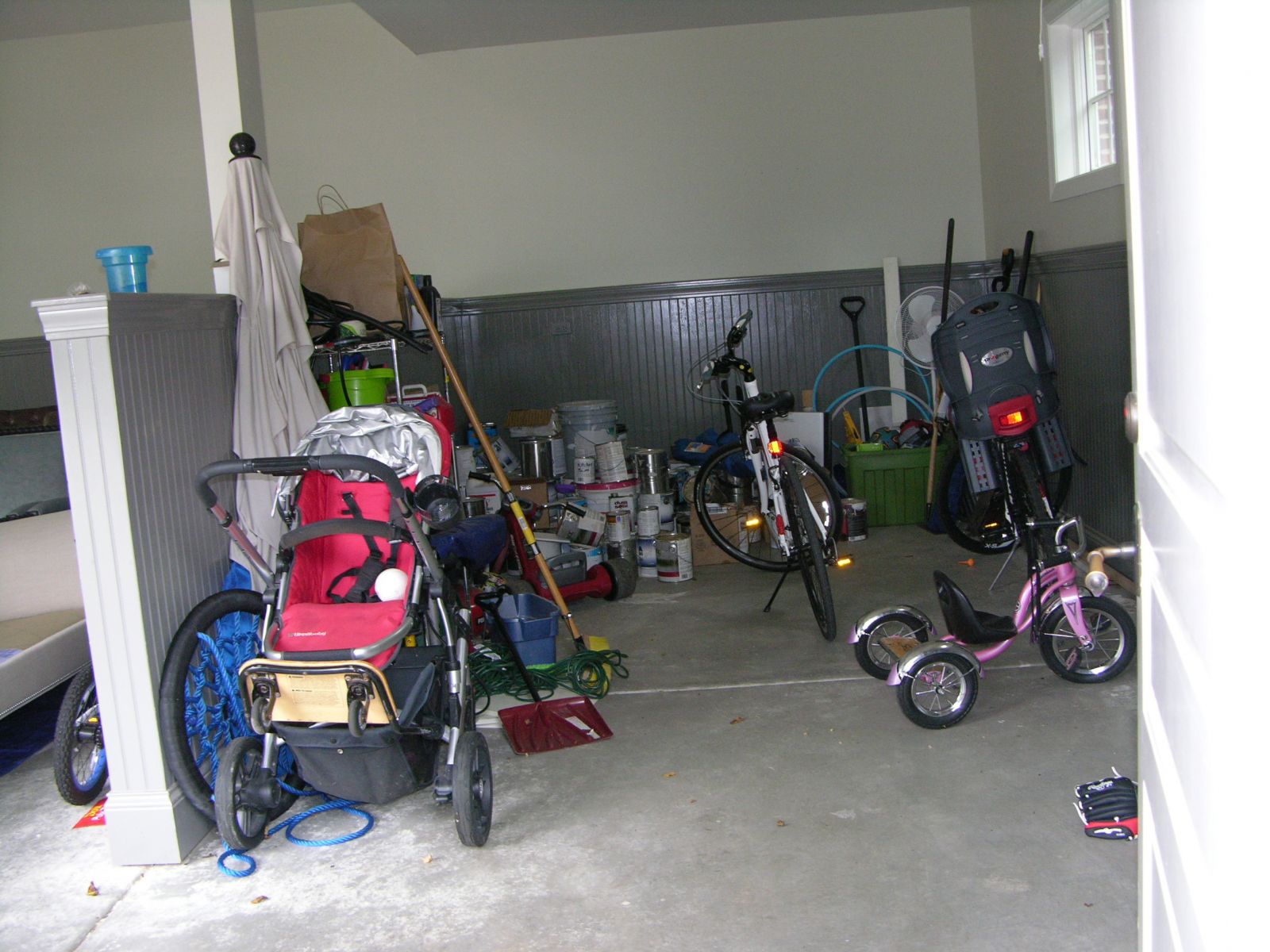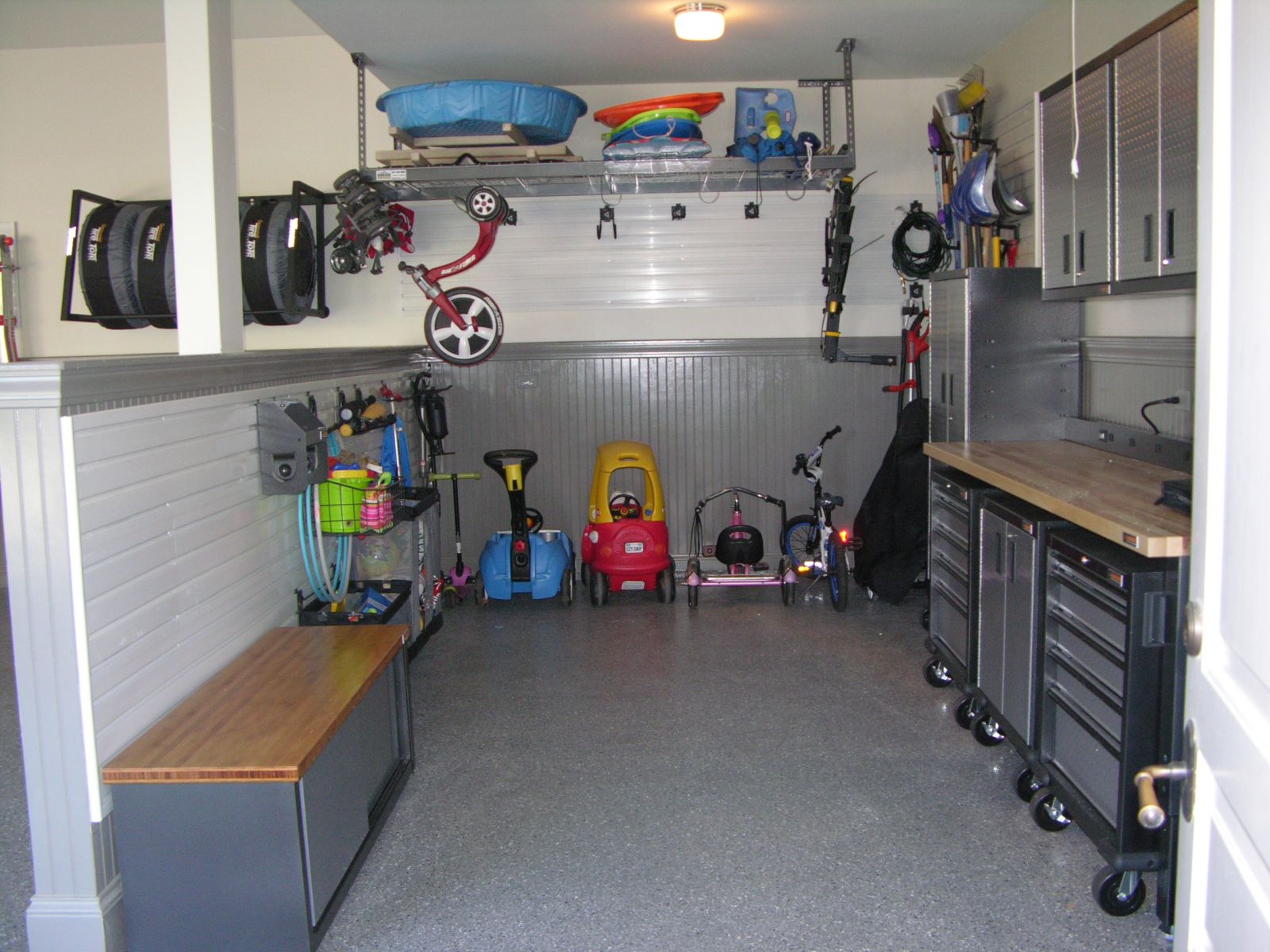 The last thing to remember is to equalize and maintain these areas after you've organized. This is probably the hardest part for all of us, but the rewards are instantaneous for most homeowners when all is said and done.
"When you've been suffocated by your environment, you can't believe the sense of relief when it's done," says Wickstrom. "Organizing makes people feel empowered."
And once you've decluttered, give yourself a double de-stress boost by rewarding yourself with a massage or some form of self-care treat. According to WebMD, massage therapy can be beneficial for relieving stress, whether it is a massage session with a licensed massage therapist, or on your own.
Stress can be debilitating. As National Stress Awareness Month winds down, remembering to take time to find new ways to manage stress can keep stress at bay. Decluttering and other self-care techniques can be helpful in improving your wellness by helping to reduce daily stress.