Apr 4, 2016
The Boys of Summer are back and ready to start a new season. The perception for years was that professional ball players would take the winter off to relax and be with their loved ones. Everyone thought that these athletes were just naturally talented and could roll into spring training without even picking up a ball all winter. While they do take the time to be with family and unwind, the reality is that they've been working for months conditioning and strengthening their muscles in preparation for spring training. And for the World Champion Kansas City Royals, time off to recuperate has been even less after a long season that ended last November.
With today being Opening Day, we thought it would be interesting to find out what it's like to train and stay healthy as a professional baseball player. Doug Henry is the bullpen coach for the defending World Champion Kansas City Royals. The Royals have been to the World Series each of the past two years, losing by just one run in a heart-breaking loss to the San Francisco Giants in 2014, and then coming back in 2015 to clinch the title against the New York Mets.
Henry, who spent 11 seasons in the Major Leagues himself, can provide unique insight into what the modern-day championship athlete does to prepare for a season. What we learned in talking with Henry was that these athletes spend far more time preparing than actually playing, and that massage therapy is a huge part of the routines for championship athletes.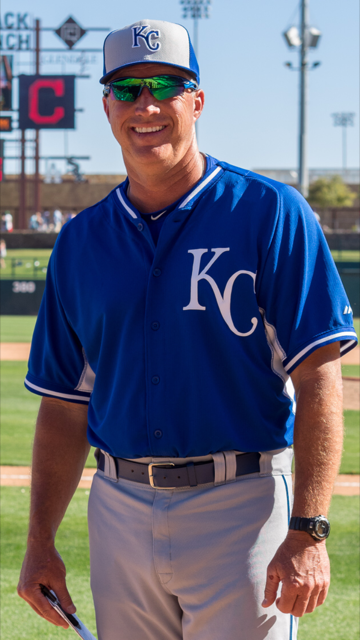 Elements Massage™: Coming back as the World Champs, are the Royals training any different this year?
Doug Henry: The regimen is pretty set with our strength and conditioning coaches. We've played so deep two years in a row; the guys aren't building up as they have in the past. It's really tiring. We usually finish in October and start up again in middle of November. Last year, was a seven to eight month season. We left in February and didn't get home until November and the whole time the players are physically active. They needed the time off, so we started up again in December this year.
EM: How do players train during the season and off-season?
DH: There is definitely a difference in the off-season than during the season. When the season first ends it's relax, let your body recoup before coming back and getting into strength and conditioning. It's all about getting as strong as you can before spring training. In spring training and through the season, it's more maintenance than it is strength and conditioning, because they are playing every day, so there's no need to over train. If a player wants or needs to add some strength, it has to be done in the 3-4 months they are off before spring training. When the season comes along its more about maintenance than building up, because it is hard to put on strength when you are playing almost every day.
EM: How many hours do they train?
DH: For the non-baseball part of the off-season, players train anywhere from two to four hours a day. The workout encompasses conditioning, cardio, stretching. Yoga has become a part of the routine with a lot of stretching and weight lifting for agility. In our sport, while strength is a big part of the game, flexibility is also critical.
EM: Is massage therapy part of training?
DH: Massage has become a big part in the training room. The trainers do a lot of massaging to keep the guys on the field. We also have a massage therapist on staff. Many guys also use them in the off-season and almost any time they are in their hometowns. It's a big part of keeping limber and keeping muscles in shape.
EM: Do you think massage helps muscles recover?
DH: Yes, because it's not about relaxation so much (as an athlete). Deep tissue massage beats you up but it also feels good. The muscles tighten up. Athletes in general are stronger and their muscles are bigger. It takes a little more to get deeper into muscles than a non-athlete.
EM: How often do players get massage?
DH: I'd say two to three times a week with the massage therapist. The trainers are doing something every day. It may not be full body, but they are doing some sort of massage every day. We have a therapist, two trainers, a rehab physical therapist, chiropractor and intern on staff. They are all hands on and then there's the massage therapist. There are 30 guys and it's unbelievable what the staff does for the players.
EM: You've been in baseball almost your whole life, have you seen changes in the use of massage over the years?
DH: Nowadays, massage therapists are on every staff. Back when I started, there were none. The first massage I had was with the Giants in 1997. Then I went at least once or twice a month to a local massage salon to have them beat the heck out of me. It varied, but I think it was around 2000 when you started seeing therapists working with the teams. Now they are full time and travel with us. They are there at the games and have become a major part of our training staff. They do whatever type of massage is needed for these guys to recover and stay on the field.
EM: What is the strength training like in the Majors?
DH: Most everything is done on-site. During the season, we also have a strength and conditioning coach who is with us full-time. These guys are unbelievable and that part of the world has grown. I wish I had these coaches when I was playing, because then I might still be playing at 50 years old. These guys are that good. In the off-season, the players usually find personal trainers rather than go to a gym. And, they usually go to the facilities these trainers are at.
EM: Are there any dietary restrictions?
DH: We have a full-time dietician. She doesn't travel with us, but she comes in twice a week for the players. The dietary part of the athlete's world is huge. It's so different than when I was playing; the plans are all tailored to the player.
EM: What if a player is putting on pounds?
DH: The strength and conditioning coach monitors that. These guys weigh in twice a week, or at least once a week. There are all sorts of tells with players that let them know something isn't right and they will get to the core of it pretty quick.
EM: What do you do as a bullpen coach?
DH: My job is the mental side of the game. The main pitching coach is in charge of game plans and the mechanics. It is my job to pay attention to what he's talking about so in the bullpen, I can reiterate and piggy back on what he's talking about to make sure they follow what the coach is saying. The mental side for me is keeping their heads where they need to be, not letting them screw around too much and to make them pay attention to the game. If there is something they need to have taken care of, they have somebody to come talk to. I'm more of a psychologist than a coach. I didn't study it but if I walked into a college and told them what I do, they'd hand me a degree. It's just dealing with people. I mean it is fun, for me.
EM: Any predictions about how the Royals will do this year?
DH: I don't make predictions, but these kids are tough. They are competitors.
Doug Henry first signed as a relief pitcher for the Milwaukee Brewers in 1991, before being traded to the New York Mets in 1995. He pitched for 11 years in the Majors and also played for the San Francisco Giants in 1997 and the Houston Astros in 1998. Henry was traded back to the Giants in 2000 and spent his last year as a ball player with the Royals in 2001. Since then, he has coached for the University of Wisconsin-Whitewater, the Atlanta Braves, in the Minor Leagues and was brought up to the Majors in 2012 to coach for the Royals.