Routine massage therapy is essential for keeping your muscles relaxed and healthy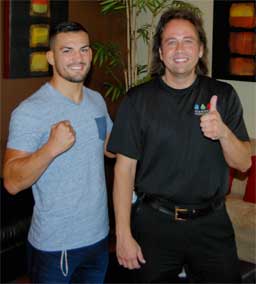 when you're just an average person who regularly works out or competes in local weekend endurance events. But, when you're a professional UFC fighter like Mirsad Bektic, weekly massages from the Elements Massage Coral Springs studio are essential for him to consistently train hard and successfully compete at such an elite level.
"As a professional athlete, massage isn't a luxury - it's a necessity," says Mirsad. "I use massage first and foremost for recovery to complement my training, as well as to help with preventing injuries. It's one of my favorite recovery methods because it gives my body and mind time to relax and it helps to make my muscles feel great. It's not a bad day when you have a really hard practice, but follow it up with a massage afterward."
Mirsad undergoes intense physical training every day of the week in preparation for his UFC fights. He trains 4-6 hours in the gym Monday through Friday, trains for two hours on Saturday and focuses on flexibility and stretching on Sunday. To help give him a competitive edge over his opponents, Mirsad focuses on not only the work he puts in at the gym each day, but he also values the importance of recovery when he's not training. In addition to receiving massages 1-2 times per week at Elements Coral Springs, Mirsad also turns to ice bathes, physical therapy and chiropractic treatments as part of his complete recovery regimen.
"Massage keeps the muscles loose and limber, which is what you need to compete professionally," explains Bradley Rivero, massage therapist at Elements Coral Springs. "During intense training, lactic acid builds up in your muscles, causing them to tighten. Massage helps squeeze out all of the lactic acid so your muscles don't get locked up, tight and sore. Mirsad comes in for a massage every Saturday afternoon like clockwork because it helps the body recover quicker. He can work out really hard, get a massage to recover and then work out even harder the next day."
"I just feel the difference in my training after I get a massage," adds Mirsad. "I feel so relaxed and my muscles feel so refreshed. Sometimes my body gets hard as a rock, but after I go in for a massage my legs feel stronger, my shoulders are more mobile and my neck is a lot looser."
Even at the young age of 23, Mirsad has realized great success from consistently training hard and focusing on the importance of recovery with massage. After signing a fighting contract with the UFC in March, he's been knocking out opponents left and right. He is currently 7-0 in his professional MMA career and he trains full time in Coconut Creek, Florida with the American Top Team, which is considered one of the largest and most prestigious MMA gyms in the country.
"I just want to thank everyone at Elements for everything they've done to help me during my career in Florida," continues Mirsad. "Elements is where it's at."