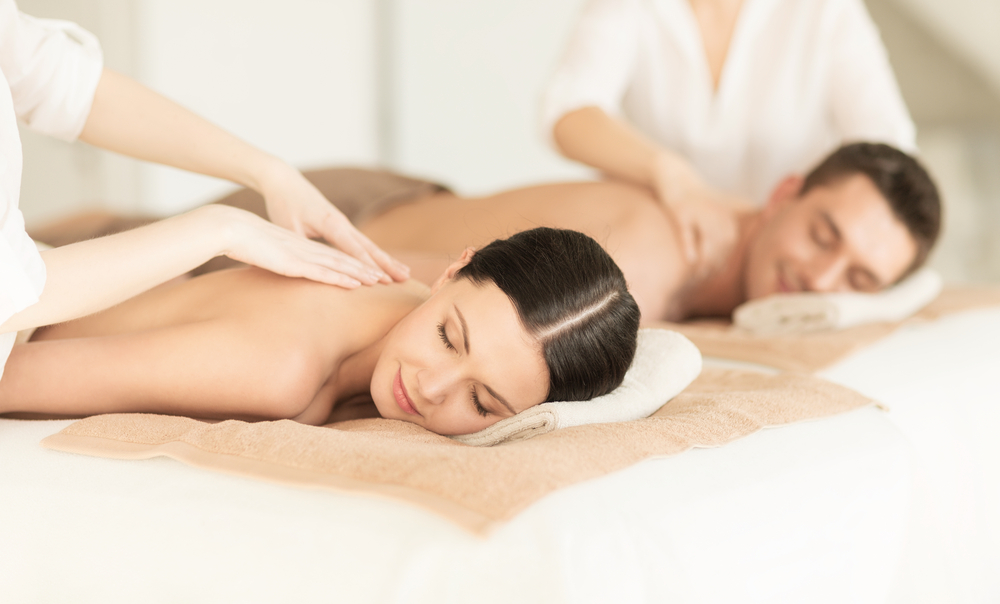 You know the day is coming. All those red and pink flowers and pastel-tinted conversation hearts can't be wrong. Valentine's Day is upon us, and you and your sweetheart are wondering just how to celebrate. You tick off the ideas, one by one. Dinner out? Too crowded and busy. Movie theater? Sounds okay, but a little boring. Stay in and binge on cashew chicken and Netflix sitcoms? No way, buster. Your loved one is worth a little care, a little pampering, and deserves a Valentine's Day that expresses how great you think he/she is. Lucky for you, we've got you covered. What's a solution that is a gift and a date idea, all rolled into one? One that will even improve your quality of life? It's clearly time to book an Elements couples massage for you and your honey.
(Bonus: If you're swinging it single this year, no big deal. How much fun would it be to grab your mom, sister, or girlfriend for a special "Gal-entine's Day" celebration that will renew and refresh you both?)

During a couples massage, you will both be in the same room, on two separate massage tables, with two certified massage therapists. You like deep pressure, and want focus on your lower back, while your partner needs intense work on their legs? No problem. Your massage will be catered to your needs, just like it always is, and your partner's will be catered to them. You'll be allowed to chat, or you may choose to simply enjoy the silence.

So WHY does a couples massage make for the perfect Valentine's Day experience?
A couples massage is a great way to introduce a partner who may not be familiar with massage to how amazing it can make you feel. Sometimes a massage newbie might feel a little nervous or insecure about the experience, and having a loved one there will make them feel more reassured. Plus, after they experience one for themselves, they might be even more supportive of your own massage regime.

Couples who branch out a little from the norm and try new things together, grow in new ways together. An effective way to bust the complacency that can sometimes come with long-term relationships is to develop new interests together. It's even better if this new experience is one that is therapeutic and rejuvenating.

You know that bright, euphoric feeling you get during and after your massage? Massage releases the "feel-good" chemicals in your brain, making you feel happier and more affectionate. Sharing those fuzzy feelings with your partner only increases the bond you have together.

It's therapy, but of a different kind. As your massage therapists each work to lengthen your muscles and soothe your knots, your breathing will slow, your minds will relax and you'll each find that your stress is reduced. You and your sweetheart will both feel cared for, which may allow you both to let go of any little, nitpicky things couples bicker over, and just enjoy each other in your soothed state.

What will happen when both halves of a couple are relaxed, de-stressed, and content? Sounds to us like the backbone to a truly memorable, healthy, and happy Valentine's Day. Here's to your best life, your best love, and starting a tradition of well-being that you both deserve.