When Pamela Roesner tells people that she can't meet with them until after her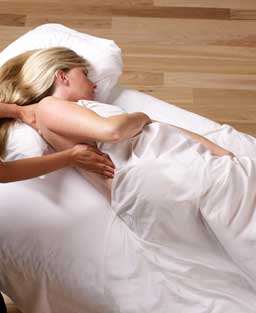 massage or that she has to head out early for her pre-natal massage appointment, she is most commonly met with looks of disbelief and apprehension from her friends, family and co-workers. With various information and studies outlining the benefits of massage during pregnancy, Pamela has been surprised by how many people falsely warn her that getting a massage while she's pregnant isn't a good choice for mom and the baby. In actuality, though, regular pre-natal massage appointments with Jo Baker, massage therapist at Elements Woodlands, has been an integral part of Pamela's pregnancy routine since she was 16 weeks pregnant. It's been a great choice for promoting health and wellness for both her and the baby during her pregnancy.
"I think more people than not are skeptical about getting massages while they're pregnant," shares Pamela. "Many people are in disbelief when I tell them I'm getting a massage. After my first trimester, I started reading about some of the great benefits of massage during pregnancy and I'm so glad that I decided to look into it. Massage is perfectly fine during pregnancy and if anything, it just makes you feel so much better."
As she prepares to give birth to her bundle of joy due on August 12, Pamela attests to the multiple benefits she's experienced with massage. From helping to relieve the swelling in her feet, discomfort in her mid-back and the everyday stress she endures at her fast-paced job, getting regular massages every three weeks has helped Pamela's pregnancy be more comfortable, tolerable and less stressful.
"You don't have to suffer through the uncomfortable aches and pains associated with pregnancy," advises Pamela. "There is a way to get some relief and that way is through regular massage. I will definitely continue getting massages after the baby is born and during my future pregnancies."
From their first massage session, Jo and Pamela clicked as far as personalities and approaches are concerned. Jo appreciates that Pamela is so in tune with her body and works with her to pinpoint the painful areas that need to be worked on during each session. Pamela enjoys that Jo is invested in making sure that she is comfortable during the session – whether that includes using a body pillow, wedge or a side lying set up on the massage table – and that she takes the time to check in with Pamela before, during and after the session. Although Pamela's main purpose for getting massages from Jo is to help with relieving the common aches, pains and conditions associated with pregnancy, she also has enjoyed the relaxation component associated with massage.
"On her first visit, Pamela expressed to me that she had a very stressful job," explains Jo. "She had knots in her shoulders, her IT bands were hurting and she was having swelling in her ankles off and on. Throughout her visits I have seen her become less stressed and she has worked hard on upping her water intake. I feel very connected and close with Pamela, as I do with all of my pre-natal clients. The baby kicks quite often as I work on Pamela and I still get a 'kick' out of that each time!"
As Pamela's pregnancy has progressed each week and her body has changed in shape and size throughout the different trimesters, Pamela's aches and pains have changed as well. She finds great value in the fact that Jo customizes each of her massage sessions depending on what aches and pains Pamela's feeling, as well as the stage she's in during her pregnancy. At the start of her third trimester, Pamela started having mid-back pain that was debilitating, even when she was just sitting in her chair at work. After only two sessions of Jo focusing on Pamela's back area, Pamela's pain was relieved, allowing her to continue living and working pain-free again.
"Jo worked with me on my swelling when I first went into Elements and always has listened to any of the issues or problems I was having during my pregnancy," shared Pamela. "Whether my feet are swollen, I have back pain or I'm stressed out about my job, Jo focuses on what I need her to at the time of my session."
"Absolutely, hands down, I don't see anything wrong with getting a massage while you're pregnant," continues Pamela. "It's important to find a therapist that you connect with, that you can trust and that listens to you. When mom feels better, baby feels better."