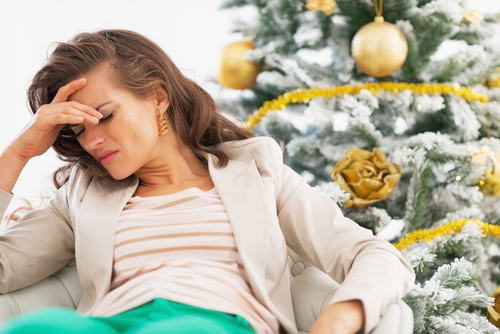 The holiday season is simply a wonderful time of year; gathering with friends and families, the parties and pageantry, and of course the joy of kids' faces. However, as good as it is, there's little denying it is a stressful time of year. Between the budgeting for presents, making sure that family is in the right spot at the right time and preparing for plenty of house guests, the holidays is a constant trip to your planning calendar. There's a lot that goes into this wonderful time of year, so it's no wonder it's also one of the most stressful times of the year. Before we get too far down the festive trail, here are a few tips on how to avoid holiday stress.
Don't Overspend
Perhaps one of the biggest stresses that come with this time of year is budgeting. You want to get the perfect gift, however, sometimes that gift is a little expensive; we've all been there. It's important to set a budget and stick to it — overspending leads to significant stress. Remember the season is about giving, not the price tag or size of the gift.
Don't Stress Perfection
Yes, we all want to impress the family — especially the in-laws — during the holidays. We also can get caught up and obsessed with hosting the event of the century, especially if you're hosting Thanksgiving or Christmas dinner. Try not to obsess over everything, let some things go, and focus on providing a fun time. Chances are, you can't throw the Rockefeller Center Christmas Tree party in your home, so don't try. You will have a much happier holiday season.
Plan Ahead
If you think about everything that has to get accomplished for the holidays and create a list, you won't be so overwhelmed. Plan each task, then as you do the task, cross it off your list. Knowing what must be done in advance will be less stressful. Plus, it's a good feeling when you get to cross an item off the list. Remember to leave room for those unexpected "holiday surprises."
Go with the Flow
With as much planning as you do, there will be a surprise or two. Be flexible, the holidays bring a lot of opinions and different ways of doing things. If someone has a different tradition or spin on a tradition — just go with it. If something strays from your plan, try not to let it bother you.
Take Time to Relax
Remember to take time for yourself. This is important, taking time to yourself will help you recharge. There are many ways to help you relax, one of the best is to treat yourself to a relaxing massage.
Elements Massage™ can help relieve your holiday stress this season. Enjoy a custom massage that's guaranteed to satisfy. While you're there, do some shopping. Elements gift cards are the perfect gift this holiday season. Visit www.elementsmassage.com to find a studio near you.