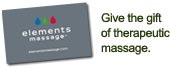 Elements Wellness Program
Save money on every massage while improving your health and well-being.
Become a member of the Elements Wellness Program and enjoy these exclusive value benefits*:
Savings on every massage

Purchase gift cards at reduced rates

Membership-only specials (sent conveniently via email)

Unused massage sessions roll-over
How the Elements Wellness Program works:
Month-to-month program, no long-term contract or commitment

Associate Member (immediate family member or significant other) may use member's program sessions

Payment made via auto-debit once per month

May drop out of program with notice
Regular massage therapy has many health benefits such as boosting your immune system and raising mood-elevating brain chemicals. Here at Elements Massage, we make staying healthy easy and enjoyable for you, your family and your friends with The Elements Wellness Program.
*Prices & terms may vary. View our rates.
**Savings varies by chosen session length. View our rates for details.