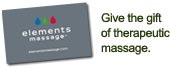 Therapeutic Massage
Our Philosophy
At Elements, what sets us apart from the ordinary massage is our focus on providing a superior therapeutic experience. Last year we delivered over 400,000 massages, yet we treat each and every one of them as our most important.
Whether it is to provide relief from pain, release of tension, reduction of stress or simply to relax and feel your best, Elements Therapeutic Massage is committed to promoting your well-being.
What Kind of Massage Do You Need Right Now?
Choosing a massage technique may sound like a heavenly dilemma, so many options so little time! When deciding on the perfect massage, your preferences for light or deep pressure are important, but the serious consideration of your health and physical condition is key.
How will you know which massage therapy technique is best for your health concerns and priorities? Elements helps you better understand your options so you can get the greatest therapeutic benefit from your massage every time. Find your perfect massage at an Elements studio near you.