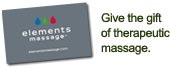 Massage Therapy | Elements Massage
The Elements Way.™
The Elements Way may sound like it's about us, but it's really about you.
Founded by a massage therapist, The Elements Way channels the healing and restorative power of massage as a vital component of overall health and well being. More than a traditional massage, it's a holistic program that ensures an experience steeped in relaxation and rejuvenation.
Fundamentally based in the deep connection of health and massage, each aspect of The Elements Way is designed to deliver a personalized experience, from pairing the right therapist to scheduled check-ins and pressure adjustments.
The Elements Way ™ is our difference. At Elements Massage, we only do massage. It's therapeutic, handcrafted, and personalized. Our expert certified therapists are focused on delivering a massage that is responsive to the individual needs of our clients- simply, it is a better massage.
Simply put, The Elements Way is:
The belief in the healing power of massage
Active listening and responsiveness
Expert therapists with a singular focus on massage
A program of continuous improvement
A holistic, personalized massage experience