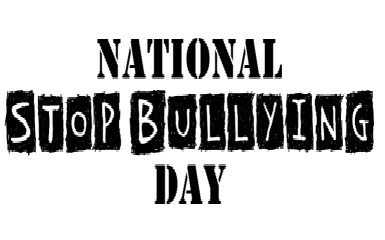 We're moving into our second month of the 2017-2018 school year. Our kids are in new classes with new students, teachers, lessons, surroundings, and more. Many times we are not completely aware of what is going on behind the walls of that school. Maybe our children are not telling us something or maybe everything is completely normal and okay. However, many times there can be the school-yard bullying that occurs. No matter what age and what school, bullying and « picking on » kids happens everywhere; however, it should not.
National Stop Bullying day was created for the specific purpose of bringing awareness to the harmful consequences of bullying and how we can stop it. While bullying has existed as long as humans have, National Stop Bullying Day was not created until recently. In 2007, a young man wore a pink shirt to the first day of school; not soon after his arrival at school, he was instantly bullied for the color of hi shirt. As this bullying continued on, two other young men, David Shepard and Travis Price, decided they could not handle what as happening. That day, they went home and purchased over 50 pink shirts. At school the next day, they handed out all of the pink shirts and encouraged everyone to wear them as a stance against the bullies from the day before. Soon, this practice caught on throughout other parts of the world and people began proclaiming it an anti-bullying day.
Since 2007, wearing a pink, blue, or purple shirt on National Stop Bullying Day is a way to take a stance against those who bully others. Another way to observe is via social media by using the #NationalStopBullyingDay. This is a serious problem that needs to be addressed and talked about so it eventually be prevented at all costs.
Bullying can cause many reactions from people. Those who are continuously bullied can experience depression, anxiety, and more. If you or someone you know experiences these side effects from bullying, help support and observe this day. Additionally, bring yourself or someone else in for a massage. Massage therapy can help relax and calm the brain and improve one's overall emotional state through relaxation. For more information on how massage therapies can assist in relieving the symptoms of depression and anxiety, visit our previous blog post about massage therapy and mental disorders. There we outline the many benefits that massage sessions can help improve one's mood and reduce the tension caused by debilitating depression and anxiety.
Help us observe National Stop Bullying Day and reduce the chances of child depression due to one's actions and words.