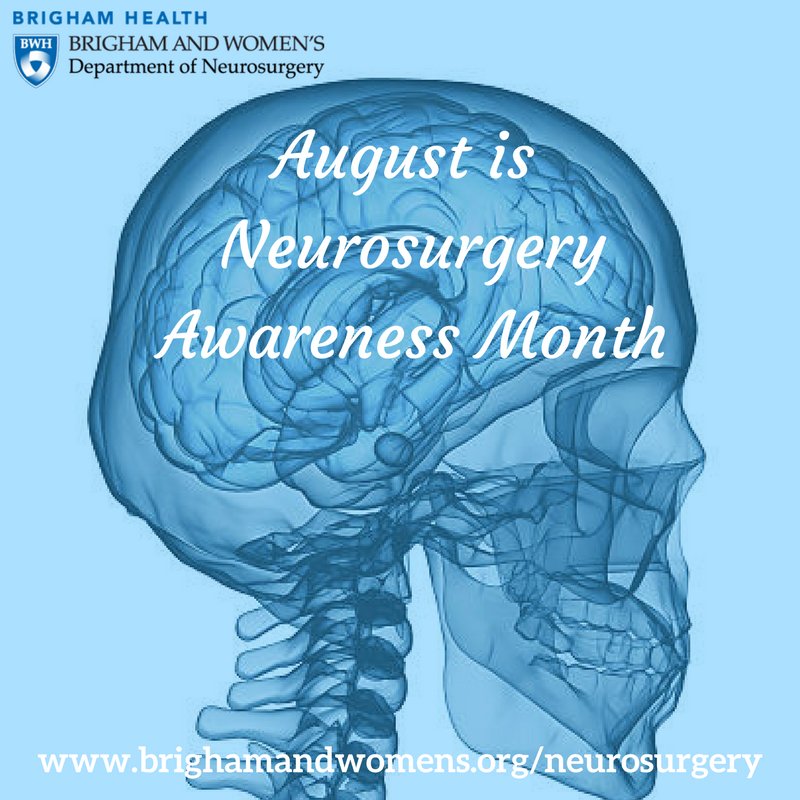 Every year August marks National Neurosurgery Awareness Month. We find that these certain « awareness » months are perfect ways to become educated on personal and medical issues that affect millions of people suffer from every day. During the month of August, we wanted to help educate others more about neurosurgery and its affects on the body than the commonly thought of risks.
Firstly, many people think of Neurosurgeons as brain surgeons, however neurosurgery has to do with the entire nervous system. This obviously includes the brain, but other important parts of one's body as well. These doctors are specifically diagnose and treat head, spine, and neck injuries as well as brain injuries; issues can be surgical and nonsurgical. Due to the fact the nervous system includes these major body parts such as the neck and spine, neurological problems can extend all the way to the arms, torso, legs, organs and other skeletal muscles.
National Neurosurgery Awareness month occurs every year in hopes of educating individuals on the nervous system and neurology as well as how to prevent problems and injuries that affect the system. The American Association of Neurological Surgeons (AANS) hopes to reach more people every year during the month of August and focus on telling people how to prevent traumatic brain injuries and other safety precautions the public should take. Every August, previous neurological patients disclose their own experiences with neurological doctors and their specific neurological injury or illness. A previous brain tumor patient discusses how finding the right doctor is like finding the your life partner and a good marriage; you need to trust them and have faith and good communication. These elite doctors and surgeons in the neurological field are dealing with some of the riskiest parts of a patient's body. Neurology patients want public individuals to know how much these doctors do and how much they risk.
While simple precautions, such as wearing a helmet during a bike ride or a seatbelt in the car, can be taken to prevent brain or head injuries; there are many preventive measures one can take. One way to help with neurological prevention or already present neurological disorders is actually massage therapy; here's how:
Many times, neurological issues in one's brain or spine can cause muscle spasms. With direct concentrated pressure, massage therapy can help reduce these spasms. This is another form of trigger point therapy, specifically concentrating on the area that is in need of massaging and working through. Massage therapy can also help reduce muscle pain or soreness that may be caused by a neck or spinal injury. Receiving a massage helps treat nerve pain, directly related to the nervous system. Many times when there is muscle pain or undetermined pain, it can be from damaged nerves, which could be caused by problems in the nervous system. Similarly, previous diagnosed issues in the nervous system could have caused pain throughout the body, muscles, or nerves; all of which massage therapy can help treat.
This August take time to work through those nerves and soft tissue at Elements Massage Whitefish Bay. Help take preventative measures to keep your nervous system in tip-top shape. Also, if you previously have had a diagnosis relating to your nervous system or any other neurological issues, talk to your doctor about how massage therapy can help. Whether you are in need over just a relaxing session to work through some pain or a trigger point massage to deal with spasms and nerve pain, Elements Massage is here to help. Make your appointment today and don't forget we have our special August Promotion and are offering $125 of free upgrades if you join our Wellness Program!