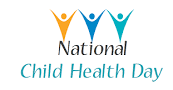 The first Monday in October is a day to observe and honor National Child Health Day. Anyone who has children knows that we want them to be the healthiest they can be and live their fullest lives. National Child Health Day is a time where people can reflect and remind each other of the best ways to make our children grow strong and healthy. Whether it is the food they eat, the activities they do, or the environment they are in, this is a perfect day to support our children and the different opportunities they have to grow.
National Child Health Day can be observed in many ways. Whether you're trying to get your kids more active or eat healthier or both, there are plenty of options for you to jump start the process. If you're looking for ideas to get your child moving, go for a walk, a hike, play a sport, or your other favorite physical activities all together.
This national day was first proclaimed in 1928 under a Joint Resolution of Congress. Originally, Child Health Day was observed on May 1st before it was moved to October soon after. The national day was originally enacted to invite « all agencies and organizations interested in child welfare to unite on Child Health Day in observing exercises that will make the people of the United States aware of the fundamental necessity of a year-round program to protect and develop the health of the children of the United States. »
The importance of this day is not only to inform parents what they can do to help the healthy of their children and the value of their life, but it also is a day to provide children with the tools to continue with these healthy habits throughout their life. On National Child Health Day 2016, President Obama released a proclamation that stated, « Today's youth will shape our Nation's narrative and drive our progress, and it is our duty to ensure our young people are given every opportunity to live full, healthy lives. Securing a bright future for America's daughters and sons requires us to continue expanding access to quality health care and working to foster cleaner, safer, and more supportive environments. » Helping foster a healthy lifestyle for our children now, will hopefully ensure a better quality of life later on.
Supporting National Child Health Day can be done in numerous ways. If you have a child or children of your own, take them on a bike ride or play sports in the backyard instead of watching another episode of TV; or, you can simply join the conversation. Go on Facebook, Twitter, or Instagram and speak with others supporting the same cause by using the hashtag #ChildHealthDay. This hashtag and online forums can let you see what others are doing to change their child's health or what ideas they may have to offer other people as well. Additionally, former President Obama's full proclamation from the 2016 National Day can be found at this link, https://obamawhitehouse.archives.gov/the-press-office/2016/09/29/presidential-proclamation-child-health-day-2016 and provides interesting and informative details as well.
Lastly, it goes without saying that massage therapy helps improve and foster wellness in anybody. Set an example for your kids, take care of your body and your muscles so that you can stay active and healthy with them as well. Schedule an appointment online today or call our front office.