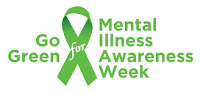 Mental Illness Awareness Week, otherwise known as Mental Health Awareness Week, was first established in 1990 to help educate people and increase awareness about mental illness. The week brings together mental health advocates and mental health organizations to help advocate and educate the community. Sponsored events and activities are help to assist in community outreach. The events can include anything from art and music events, educational seminars and sessions, benefit runs, movie nights, health fairs, and more.
An estimated 26.2 percent of Americans (18 and older) are believed to be diagnosable with a mental illness in any given year. This number may also be larger due to the stigma surrounding mental illnesses and going undiagnosed. Similarly, 45% of American adults who have been diagnosed with a mental illness will also meet the criteria for two or more disorders. However, the large stigma surrounding mental health disorders prevents a large sum of people from receiving the treatment they need. This is one of the main reasons Mental Illness Awareness Week is so important. The events and programs held during this week are meant to start discussions and improve education about mental health disorders and its affects on people. This way, we hope to reduce the stigma around mental illnesses and help people get the treatment they need.
During Mental Illness Awareness Week also includes National Depression Screening Day (NDSD). NDSD is help on the Thursday of Mental Health Awareness week and was created as an effort to reach people throughout the nation and give them a better education about the topic and connect them with services that can possibly help them. This way, mental disorders can be screened the same way as other diagnosable disorders such as high blood pressure and diabetes. Between MIAW and NDSD, there is a plethora of programs that are here to help one become more educated and aware about mental illness and mental health disorders. Also, there are now more screening services as well. Screening for mental health and depression is an important step in one's life. Thankfully, due to the MAIW and NDSD, there are many services available. You can even take an anonymous screening here: helpyourselfhelpothers.org
With all the efforts that have occurred during this week in the last 17 years, the organizations behind MIAW hope to have a world where mental health is viewed and treated with the same gravity as physical health. Many of these disorders are easily treatable, but difficult to diagnose due to the lack of people who bring themselves in for help. According to mentalhealthscreening.org, up to 80% of people who have received treatment show an improvement in symptoms, and usually within 4-6 weeks. It also affects more than 15 million American adults per year and is a leading cause of disabilities. If we can get more people to feel comfortable getting screened and getting treatment, more and more people can be helped every year. For more information regarding mental health screening, different disorders and their symptoms, and more, visit www.mentalhealthscreening.org for a very informative outline.
In light of Mental Health Awareness Week, Elements Massage is also promoting their services. Massage therapy has been scientifically proven throughout the years as a way to improve the symptoms of many different mental illness and disorders. Any mental illness can be debilitating, but massages have ben able to address two of the biggest concerns/symptoms that these disorders cause. Many mental illnesses have two symptoms in common, sleep problems or insomnia and overall muscle tension and pain. And as many know, massage therapy aids is sleep and muscle tension, therefore assisting to relieve the symptoms of mental illnesses. By improving one's sleep through massage their concentration improves, fatigue lessons, mood improves, and overall emotional state is improved as well. Massage therapy will also decrease the muscle pain and tension by increasing the circulation and releasing trigger points throughout your body. Massage therapies can overall calm your mind, improve your mood, and easy physical pain; 3 issues caused by mental disorders. To learn more about what massage therapy would be best for your symptoms or a loved one's symptoms, visit our website and read through our array of relaxing therapies. Additionally, to learn more about Mental Illness Awareness Week, National Depression Screening Day, and how you can help, visit any of the references below.
https://www.forbes.com/sites/amymorin/2014/10/07/oct-9-is-national-depression-screening-day-heres-why-employers-should-get-involved/#29e2726c9d20
https://mentalhealthscreening.org/programs/ndsd
http://www.mentalhealthamerica.net/conditions/national-depression-screening-day
https://www.mentalhealth.org.uk/campaigns/mental-health-awareness-week