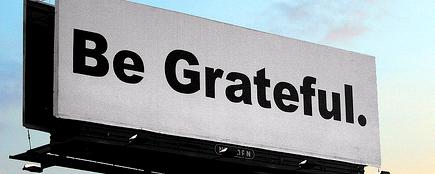 Gratefulness
Stephanie Ochoa Nov 18, 2013
Gratefulness is the act being appreciative of the benefits you have received. Every day cannot be a wonderfully, magical day; in fact, some days just down right stink; but if you could, at the end of each day, reflect and find one thing you are grateful for it could change your entire outlook on life.
Be grateful for the things that you take for granted such as: health, job security, family, a home. We often forget that a lot of people in this world don't possess any of those, what we would call, necessities. Be grateful for any of the good that might come from some of the worst situations. The hardest habit to break is being angry when bad things happen rather than refocusing our energy on the positives. By focusing our energy on the positive and feeling grateful for what you do possess in your life, your stress level drops and your feelings of joy and happiness rise! Now who wouldn't want that?
"In daily life we must see that it is not happiness that makes us grateful, but gratefulness that makes us happy."
Brother David Steindl-Rast
Austrian-American Author and Benedictine Monk
Share your thoughts, leave a comment!
Comments (0)