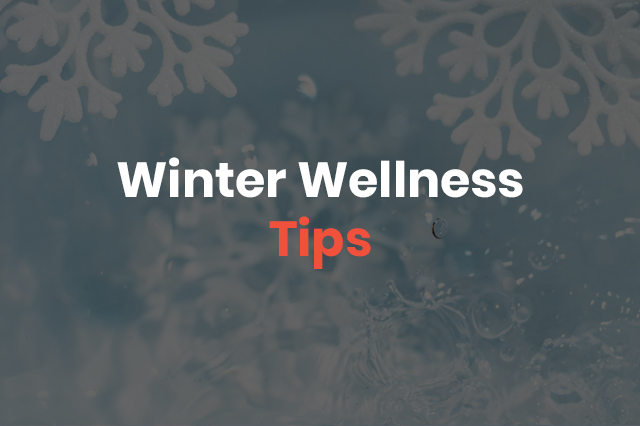 'Tis the season for quality family time, hot cocoa, and holiday movies! It's also the season for shoveling, icy roads, and the feeling of being overwhelmed from holiday preparations. As our minds may be distracted during this busy time, we've compiled a list of ways to keep you safe this winter season.
Ice Safety Tips
When driving in the snow and ice…
Avoid the roads if possible. The best way to avoid an accident and stay safe is to avoid the roads completely!

Reduce your speed. If you must drive, it's always a good idea to be observant and use caution in icy conditions. High speeds can result in loss of control and difficulty to stop. It's recommended to never go above 45 MPH, even on a highway. This can help prevent fishtailing, spinning out, and colliding with other vehicles.

Pay attention to the weather. If you know a storm is coming in, try to get all of your errands in before it hits. Start checking the forecast every morning and make it a part of your daily winter routine.

Don't stop for accidents or stranded vehicles along the icy road. Of course, we want to be helpful when we can, but pulling over on the side of an icy road can be dangerous. Unless the stranded driver is in immediate danger, it's best to contact authorities (call 911) to make sure roads are properly and safely blocked off to divert traffic.
When walking on snow or ice…
Wear proper footwear and apparel. Even if you're just running to the grocery store, wearing shoes/boots with traction can help ensure your safety. Footwear made of rubber or neoprene composite provide better traction than plastic or leather shoes. Avoid shoes with heels. For extra protection, you can purchase ice traction slip-ons to put over your shoes.

Walk safely. This may seem like a no-brainer, but when getting in and out of your car or a building, use caution when walking. Move slowly and use handrails or your car for support when available. Try to stay on designated walking paths and look ahead when you walk. Also, try to avoid looking at any device and keep your hands out of your pockets.
Shoveling Techniques
Warmup before shoveling. Shoveling is a lot of work for your muscles, heart, and lungs. You'll want to get yourself warmed up first with some light cardio, weightlifting, or even just stretching to get your body moving.

Position yourself correctly. Try to avoid excessive twisting and bending at the waist. Bend at the knees and lift with your legs; this will help you maintain the normal curve or your spine and will help avoid muscle strain. Lifting with your legs and abdominal muscles can save you from an evening of back pain.

Dress appropriately. Dress in layers for warmth but make sure you have enough flexibility and mobility to bend your knees without restriction.

Lift only what you can. Heavy, wet snow may require you to take smaller loads. Remember, slow and steady wins the race!

Take a rest. If you become dizzy, out of breath, or if you're just sick of shoveling; it's okay to take a break. Listen to your body. Drink water and eat some food halfway through if you need to. If you continue to feel ill or suspect a serious medical problem, stop immediately and seek emergency help.
How to Handle Holiday Stress
While the season can bring an abundance of love and cheer, a lot of us endure high levels of stress and anxiety this time of year.
Why do you experience high stress during the holidays?
Doing too much. Yes, too much of a good thing is very real. Going to holiday festivities is great fun, but overbooking yourself can cause anxiety and stress. Pick and choose when you can handle going out! It's okay to say no and it's especially okay to choose to stay in and rest.

Eating and spending too much. Please, don't be afraid to indulge! Tis the season to splurge a little bit, but overeating and overdrinking alcohol and/or sugary beverages can lead people to feeling sluggish, tired, and they may face physical consequences like weight gain. Everyone wants to spend a little extra money on their loved ones during this time of year, but if you can't afford it, don't do it. Create a budget for gift spending.

Overloaded schedule. It's always nice to spend time with immediate and extended family, but having alone time is equally as nice. It's important to maintain a healthy relationship and dynamic with those you're close with. It's okay to set boundaries and take some time away for a moment. This could mean going shopping, taking a walk, or just grabbing a coffee alone.

Not enough quality time. For some, the holidays can be a lonely time, especially for those who have lost loved ones. Don't be afraid to reach out to your friends and colleagues this holiday season.
How do you handle the holiday stress?
Set your intentions and priorities. Set a spending budget for holiday gifts, food, and festivities. What mindset are you going into the season with? If you're having negative thoughts about seeing family and going out, you're more prone to act on those feelings. Rather, focus on the good that's to come, even if it is alone time on the couch watching a holiday movie.

Be smart with holiday eating. It's tempting to indulge in all of the delicious desserts, dishes, and treats. Determine what your triggers are and try to stick to eating healthy foods when you're not at a holiday event.

Remember to breathe. If you need to take a minute to collect yourself in the bathroom while at a holiday party - do it! Sometimes we really do forget to take a second to breathe. Check in on yourself by doing a breathing meditation. This can help lower your stress levels and encourage mindful thinking.
Be mindful this year and don't forget to check in on yourself every once in a while. If your body is feeling the stress of the winter season, we are here to help! Call Elements Massage today to book a massage (414) 332-3260.