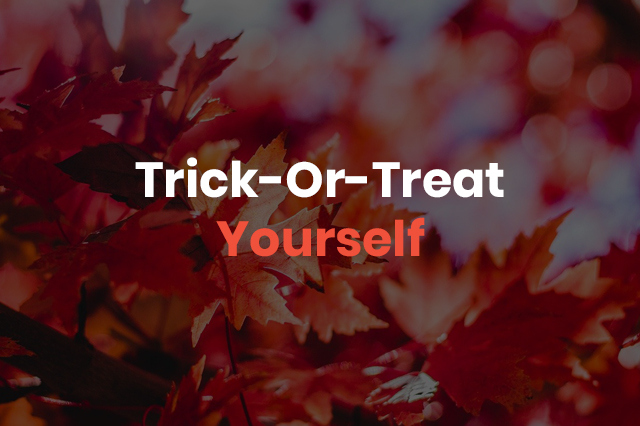 It's trick-or-treat yourself season! As we move into autumn, it's time to cozy up under a blanket and watch a scary movie. This is also the time when things start picking up with school and people are back on the work grind. It can be easy to forget to treat yourself. To help you get into the fall spirit, we've created a list of some things you can do to treat instead of trick yourself.
Get a Massage
A massage is the ultimate treat this season. If you're balancing kids' activities, giving 100% at work, and cooking for the family, you're probably in great need of a massage! Not only can massage therapy help to release built up stress in certain parts of the body, but it's a fantastic way to relax and disconnect for an hour or two. If you engage in high levels of physical activity at the gym, at work, or just around the house, a massage can help rid you of tight muscles.
Make Homemade Tea
What's better to get into the Halloween spirit than making your own witchy brew? Sure, you can buy pre-made tea blends from the store, but making your own allows you to add the flavors that you want and keep out the ones you don't. While you might think you're only pretending to be a witch who's making her own magical drink, there are actually a lot of healing benefits to certain herbal blends. For example, ginger can help with an upset stomach, chamomile helps colds and promotes sleep, and cinnamon tea can help with inflammation and blood levels, plus it's filled with antioxidants.
Host a Movie Night
If you're still in the mood to be social, but don't want the stress of hosting, having a movie night is a great compromise. It's casual, low maintenance, and an excuse to stay in your PJs! You can start out the night with lighthearted, family Halloween movies, and once the kids go to bed, you can pull out the scary and spooky ones.
Buy a House Plant
Not only can you buy plants that feed into your warm, cozy, or spooky fall vibe, but there are many benefits to having plants around the house. Houseplants can boost your mood, productivity, and creativity. They also help cleanse the air, reduce stress, and prevent fatigue. Crotons are great to get into the mood for fall because they have great colors of red, green, orange, and sometimes black. Some other great autumn plants are Chrysanthemums, Calathea, and Anthurium. Of course, some plants require more work than others, so be sure to do your research to find a good fit.
Go for a Walk Outside
Sometimes the cold weather can make us feel trapped inside. Before it gets below freezing and the snow starts falling, put on a sweater or a hat and go for a walk outside. Not only does physical exercise promote mood boost, reduce stress and anxiety, but taking it outside brings in even more benefits. Spending time in the colorful, autumn outdoors can boost your creativity and increase your vitamin D levels. It's also a great way to sneak in some alone time and listen to your favorite music or just hangout with your thoughts.
Try a New Coffee Shop
Don't lie; we know you secretly love pumpkin spice and chai lattes. There's no better time than Fall to treat yourself to your favorite coffee drink, but going through the same Dunkin Donuts or Starbucks drive-thru can get old. Venturing out to your local mom-and-pop shops brings a little bit of adventure to your day, and you're supporting local business! Small coffee shops put a lot of love and care into their specialty drinks, so you can't go wrong on your pumpkin spice latte.
Enjoy Aromatherapy
Name something cozier than relaxing and enjoying fresh aromas in the air. Aromatherapy uses essential oils to improve your overall health of your body and mind. Light a candle, use a diffuser with essential oils or enhance your massage experience with one of our featured blends: Energize with Sweet Orange, Relax with Lavender or Refresh with Eucalyptus. The scent of lavender helps to ease your mind and relieve your anxiety and eucalyptus is great for energizing and improving your focus. Citrusy scents like lemon are great mood boosters, too! Find a blend that will help improve your mood and health!
Remember, you don't always need an excuse to relax and disconnect. It's important to incorporate at least one or two forms of self care into our daily routine. If a massage is calling your name or you have questions about our other services, call Elements Massage today (414) 332-3260.