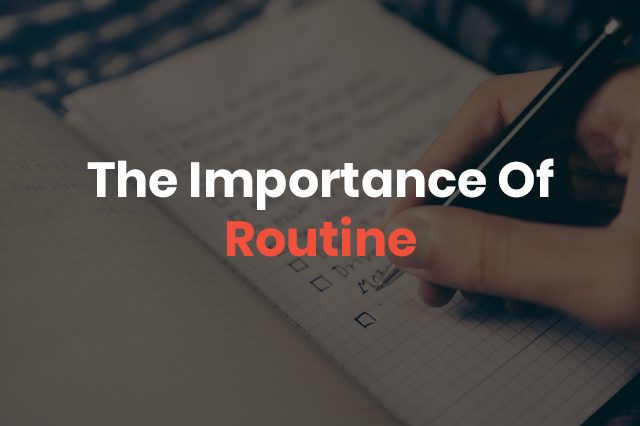 For some, creating and sticking to a routine is easy. For others, the thought of doing the same thing everyday doesn't sit well with them. The nice thing about creating a routine is that you can make it structured enough so that you have a general idea of what needs to get done that day, but they're flexible enough that you can change it up from day-to-day! Establishing a routine can improve your eating habits and sleep patterns, lower your stress levels, and if you're wanting to, invite some more fun into your life!
What Can You Control?
If you add too many tasks to your daily to-do list, you might find yourself quickly overwhelmed and feel like you don't have enough hours in the day. To avoid burnout, make a routine that makes sense for your day. Especially if you have to worry about the schedule of your spouse or kids, having a looser routine might work best. This might include a basic time for waking up in the morning, going to work, running errands after the work day is done, etc. Try adding structure to what you know needs to get done, that way you have more time for extra tasks that arise.
Include your Health Into your Routine
Your health should be at the top of your absolute to-do list. If you know you don't have a lot of extra time for self-care, set aside time for your basic health needs and try to switch it up by keeping it fun.
Massage therapy is a great thing to include into your routine because not only is it a break from work or your kids' busy schedules, but it offers so many health benefits. Massage, overtime, can reduce muscle tension, improve skin tone, lower stress levels, and so much more!

Regular, daily exercise (one day it could be a walk around the block and the next day it could be pilates with your friends)

Eating healthy (this could include making a meal with your kids or trying out a new recipe)

Staying well rested (try winding down for the day with a book one night your favorite show the next night)

Keeping a positive attitude (keep a gratitude journal or make time for fun everyday)
Break Old Habits and Instill New Ones
We all know that to gain a new habit, repetition is important. A routine allows us to practice this repetitiveness until it eventually becomes instilled into our lives. Trying out a new routine also allows us to shed old habits that no longer serve us and invites the new, healthy habits in.
Routine is an Opportunity to Save Money
Did you know that following a routine can save you money? For example, if you allot time to cook a meal everyday or set aside time on a Sunday to meal prep, you don't need to stop to buy fast food or a quick meal. This can also aid in your healthy eating habits. Also, if you're trying to pick up the habit of hitting the gym, buying a gym membership can end up saving you money in the long run too.
It's so important to make time for fun in your daily life! Fun is crucial for your overall well being, and you can leave time for some alone time and self care, or enjoy some time with the family. For more information on the benefits of massage or to get a weekly or monthly massage added to your routine, call us today. (414) 332-3260