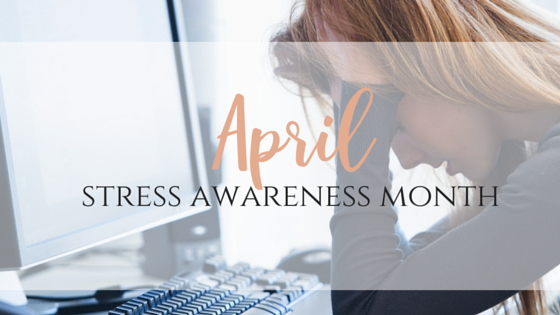 One of our main goals here at Elements Massage is to help reduce stress and anxiety. Massage therapy can pride itself on being one of the best stress relievers in the business. With that being said, there was no way we were going to pass up talking about Stress Awareness Month.
Stress Awareness Month is observed annually in April. It was created to make the environment of stress and anxiety a more welcoming and informed place. It is important to talk about stress and its effects, share your own coping mechanisms, share where one can get help, find out ways to help others who are stressed, and also just take overall good care of yourself if you are in a stressful situation.
This national day was created in 1992 and has taken place every April since then. Over the years, experts have aimed to increase the overall public awareness of stress and how one can cope with it. The information these experts wanted to provide included anything from the causes of stress, the negative effects of stress on the mind and body, and how to relieve stress.
Most people will experience stress in some way, shape, or form in their lifetime. However, there are others who are bothered by extreme or constant stress that can take a large toll on their wellbeing. Stress can be caused by many different experiences and activities; from a traumatic event to a busy schedule, or even just life's daily tasks.
Everyone experiences and deals with stress in different ways. While not everyone will have the same stress relieving solution, there are plenty of ways to try and reduce stress and anxiety. In order to observe and celebrate Stress Awareness Month, Elements Massage wanted to put forth stress relieving techniques and ideas, just as the experts who created this day intended. Reducing your stress levels is a large part of a healthy lifestyle and a good wellbeing. If it isn't managed, stress can be very traumatizing and even deadly. Untreated stress can create more serious health problems such as high blood pressure and heart disease.
The Center for Disease Control and Prevention (CDC) has outline many simple ways to try and alleviate some of the stress one may be experiencing. As stated before, everyone experiences and deals with stress in different levels and ways, but these are just some suggestions that have proven to be successful for many others. Relieving stress could be as easy as implementing a healthier lifestyle! This includes eating healthier, exercising regularly, getting the required amount of sleep, and even just taking a break if you find yourself feeling stressed.
Additionally, talking to people about your stress can help relieve some symptoms. You can try and cop with a parent or a friend, a doctor or a counselor, or whomever; but many times, talking about what you are experiencing and how it is affecting your body can be very beneficial and relieving for your stress. Also, when you're stressed, do you find yourself reaching for a glass of wine or a cocktail or a beer? While we may think those help with stress, continuously falling back on drugs or alcohol can actually increase your symptoms of stress in the long run.
Other, possibly more cliché ways to reduce stress, are meditation, yoga, and just having fun. If you don't give yourself time to relax and have fun, you'll just end up feeling more stressed. Let yourself breath and relax for a bit.
A big part of relieving stress is also identifying your stressor(s). This may be easier said than done, but once the culprits causing your stress and anxiety are noticed, it can be easier to figure out how to reduce or eliminate that stress overall. Once identified, you can avoid, alter, or adapt to what is hurting your wellbeing and continue to live a healthier life.
Lastly, as we have always stated, massage therapy is one of the greatest forms of stress relief. Improving your overall wellbeing, health, sleep, and blood circulation are all things that help eliminate stress from your body; and they are also some of the benefits that massage therapy promotes and provides as well.
This April, make an effort to talk to people who are stressed out, talk through your stress, or give you or someone else the gift of a stress free month with a massage. Call our studio or book an appointment online.