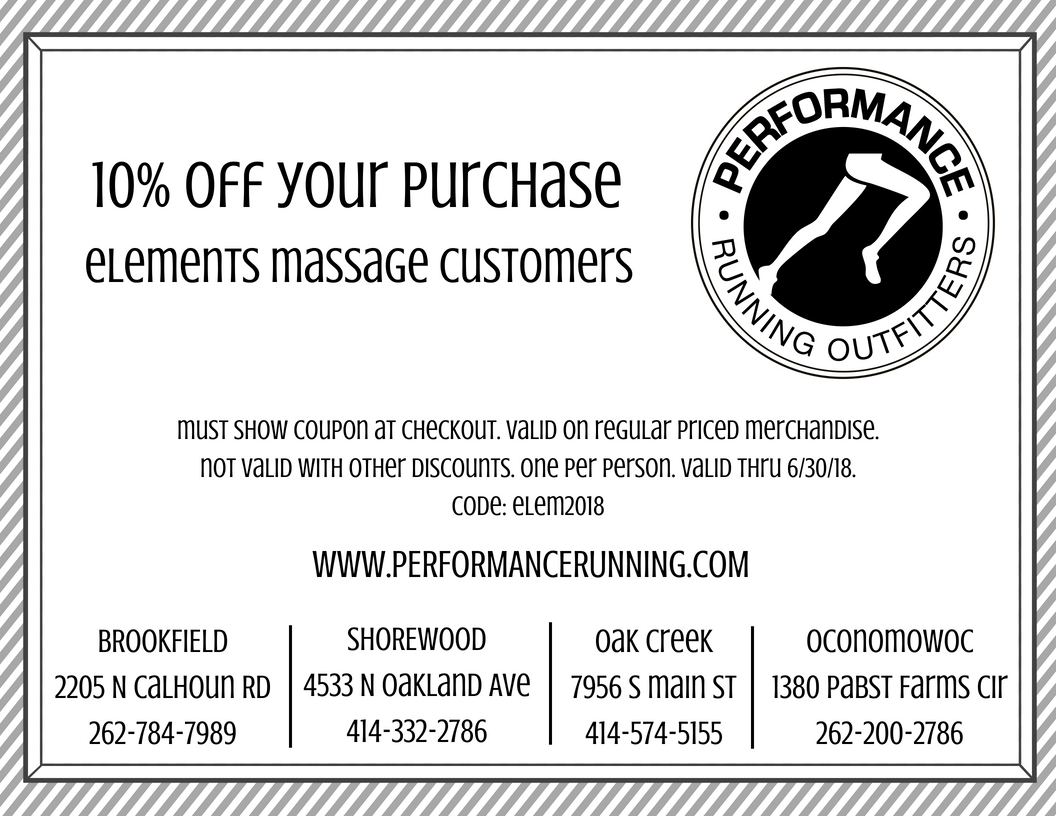 It feels like it took forever, but spring has finally arrived in Milwaukee which means it's finally time to head outdoors and pound the pavement. While winter running has it's own challenges (so. much. laundry!), summer running sometimes requires a little more than just throwing your shoes on and heading out the door. Many people have trouble adjusting to the rising temperatures and humidity, but a few simple swaps can make your summer running routine a little happier.
The most important thing for your summer running success is a good pair of shoes. Sometimes it feels like we overstate how important they are, but a good pair of running shoes fitted for your specific needs is the foundation of your running experience. We always recommend going through our video gait analysis at Performance Running Outfitters-- we start by asking you about your current running routine and goals, we take a look at how your feet move, and film you running on our treadmill or track. Then, based on all of those data points, we can choose a few different shoes for you to try that will meet your needs, and we can suggest other items that might make running a more enjoyable experience. Most running shoes have a lifespan of 300-500 miles, so depending on your training and mileage, you can get anywhere from 3 months to a year out of a pair of shoes.
Upgrading your cotton apparel and socks will make a huge difference in the summer heat, keeping you cool and dry and keeping blisters at bay. Make sure your apparel is made of a nice blend of synthetic fibers that are lightweight and breathable, or go with more natural fibers like bamboo. The same thing goes for your socks-- you should choose socks with synthetic fibers that will help pull the moisture away from your skin and prevent blisters. Many people also have success with a merino wool blend (we love Smartwool and Feetures Elite Merino), which unlike your winter sweaters is lightweight, soft, and incredible at managing moisture.
You'll also want to make sure you're protecting yourself from damaging UV rays. Check your apparel for a UPF rating of at least 15 (most technical running apparel has a UPF rating of 30+). If you're running when the sun is up, always wear sunscreen (SPF 30+) on your exposed skin, and don't forget about your nose and ears! We also recommend wearing a brimmed hat and a good pair of sunglasses to block harmful UV rays. There's a lot of great options for sunglasses that won't slip or fog up-- at PRO we love Goodr sunnies, which are polarized with a non-slip coating ($25-$35) and Tifosi, available in many frame options, many of which have interchangeable lenses.
Another thing to consider is staying on top of your hydration in the summer. You'll be sweating a bit more in the heat, so you need to make sure that you're replacing the fluids that you lose. General guidelines recommend that you drink about 8 glasses of water a day, and to drink when you feel thirsty. There's a lot of individual variation with hydration, so make sure that you're drinking enough for your particular needs. Adding electrolytes to your routine can also make a difference if you tend to lose a little more salt when you sweat-- products like Nuun, Hammer Heed, and Gatorade Endurance will help to replace the sodium and potassium that are lost when you sweat.
Finally, if it's possible, adjust your routine. Run earlier in the morning, or later in the evening when the sun is low. If that's not feasible, try to choose routes that are shaded or tend to be a little cooler (like along the lakeshore). For that reason, summer is a great time to explore trail running, since places like Lapham Peak and the Milwaukee River Trails provide a lot of tree cover. (If you're looking to try out trail running, come and check out our free trail runs on Thursdays at Lapham Peak at 6:00 pm.) It's also a good idea to run by perceived exertion rather than pace as the temperatures increase- the increase in heat and humidity can make running feel a little harder than usual so be kind to yourself and don't push it too hard. There's no shame in swapping workouts either- swap your workout for a swimming or cycling day, or head indoors and run in an air-conditioned gym.
If you have any questions about summer running, running gear, or what we do, or just want to swing by and check us out, please come and see us! We've got 4 convenient locations in the Milwaukee area-- Brookfield, Oak Creek, Oconomowoc, and Shorewood-- and we are always happy to help, no appointments necessary. Happy (summer) running!