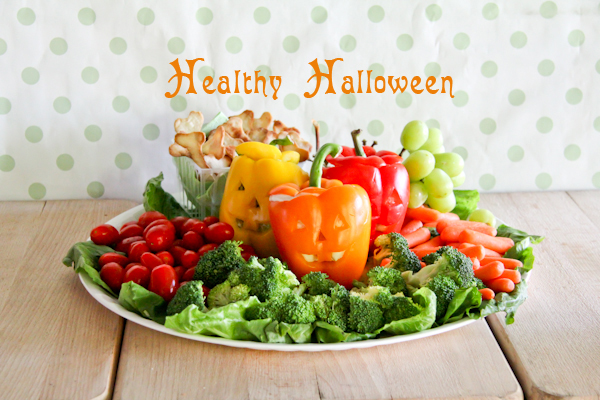 Halloween marks the start of the fall holiday season. As we move from Halloween candy to Thanksgiving pie to Christmas cookies; it is hard to find a break between all the good, but sometimes not-so-healthy, food. To make this upcoming holiday a bit easier on your self control, your wellness, and your diet, we are providing some of our favorite healthier Halloween recipes. There are plenty of ways to still get all the delicious and holiday-spirited food while not losing sight of your wellness plan!
Jack-o-Lantern Fruit Cups
This is a cute and delicious way to help you (and your kids) get your fruits in for the day. It is also nice and simple to prepare if you're taking to a party or a trick or treating event. Simply take the inside of the clementine out and cut out a cute jack-o-lantern design. Then fill the inside with your favorite berries or fruit pieces. You can play around with fresh fruit or dried fruit!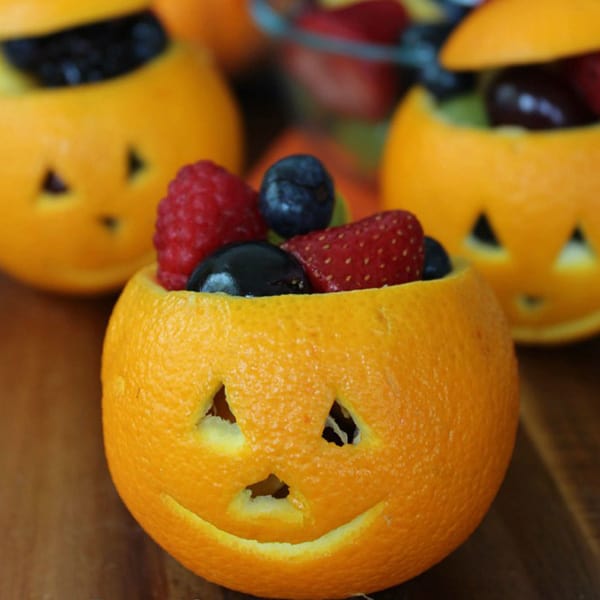 2. Candy Corn Popsicles
These popsicles are a creative way to get that healthy sweet tooth treat. All you need is pineapple juice, orange juice, and yogurt along with popsicle molds and you're all set for this candy looking (and tasting) dessert.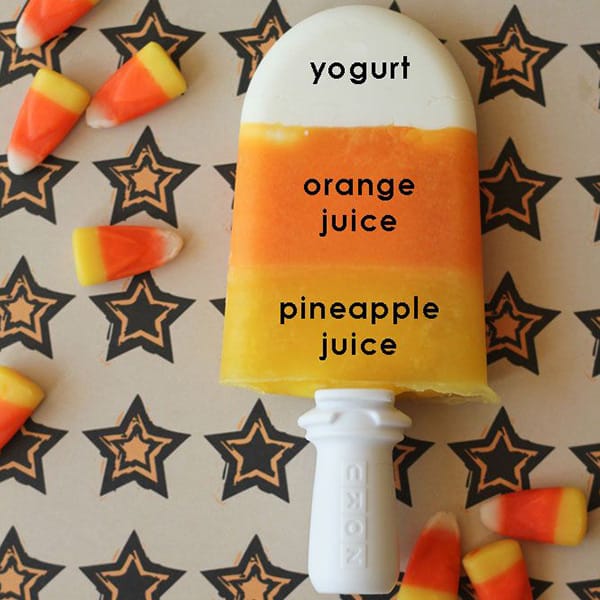 3. Monster Pie
It's just your average healthy pie recipe, covered in kiwi to make it look like a monster! A healthier way to get in your sweets and a creative design for the holiday!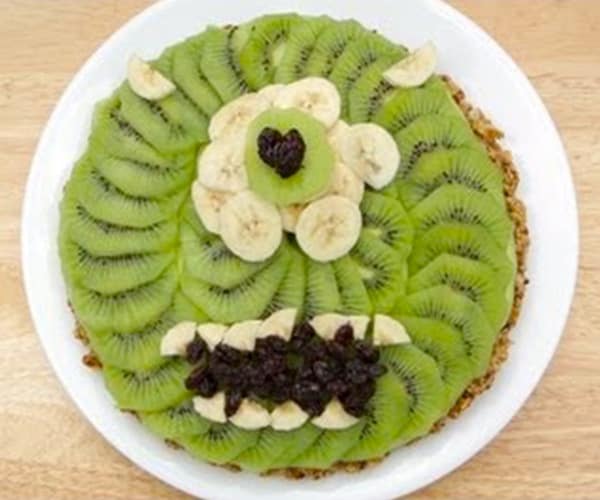 4. Spider Eggs
Maybe the sweet treats are not what you have a hard time avoiding… In that case, make some hard-boiled eggs or deviled eggs and cut up some black olives. You will be able to assemble the black olives to look like spiders and put them on top of the deviled/hard-boiled eggs. Voila, a savory snack.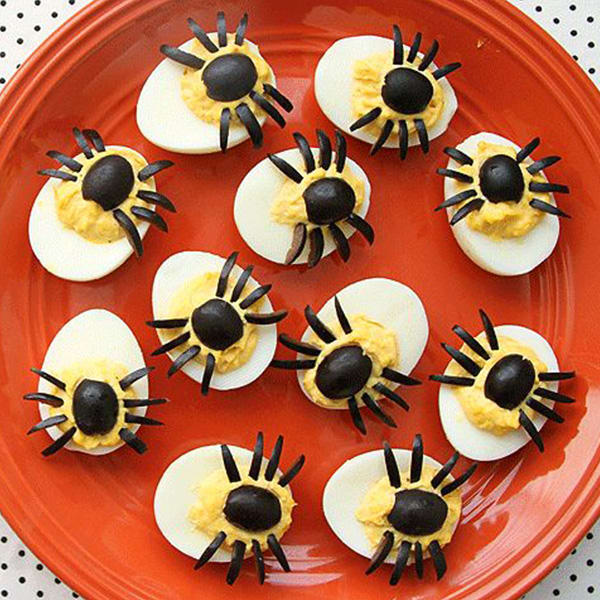 5. Banana Ghosts
Cut bananas in half, melt chocolate, draw on eyes and a mouth - boom you're done. OR instead of even melting the chocolate, take the chocolate chips and push them into the banana for eyes and a mouth. The second chocolate goes on anything, it's automatically better. You can even up the health level by using dark chocolate chips.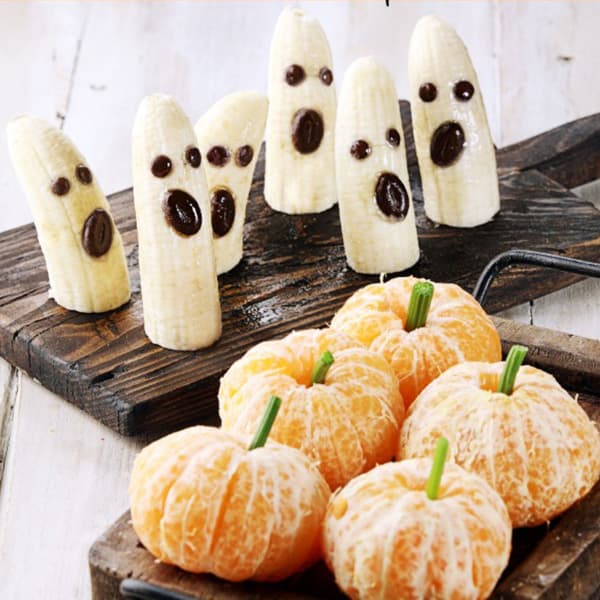 6. Chocolate Covered Apples (or other fruit)
Caramel covered apples are a huge fall treat. They're easy to make at home as well. However, instead of going for the sugar loaded caramel, melt some dark chocolate and dip your apples in that instead. Dipping other fruit, such as clementines, bananas, kiwi, etc is also a great alternative to candy.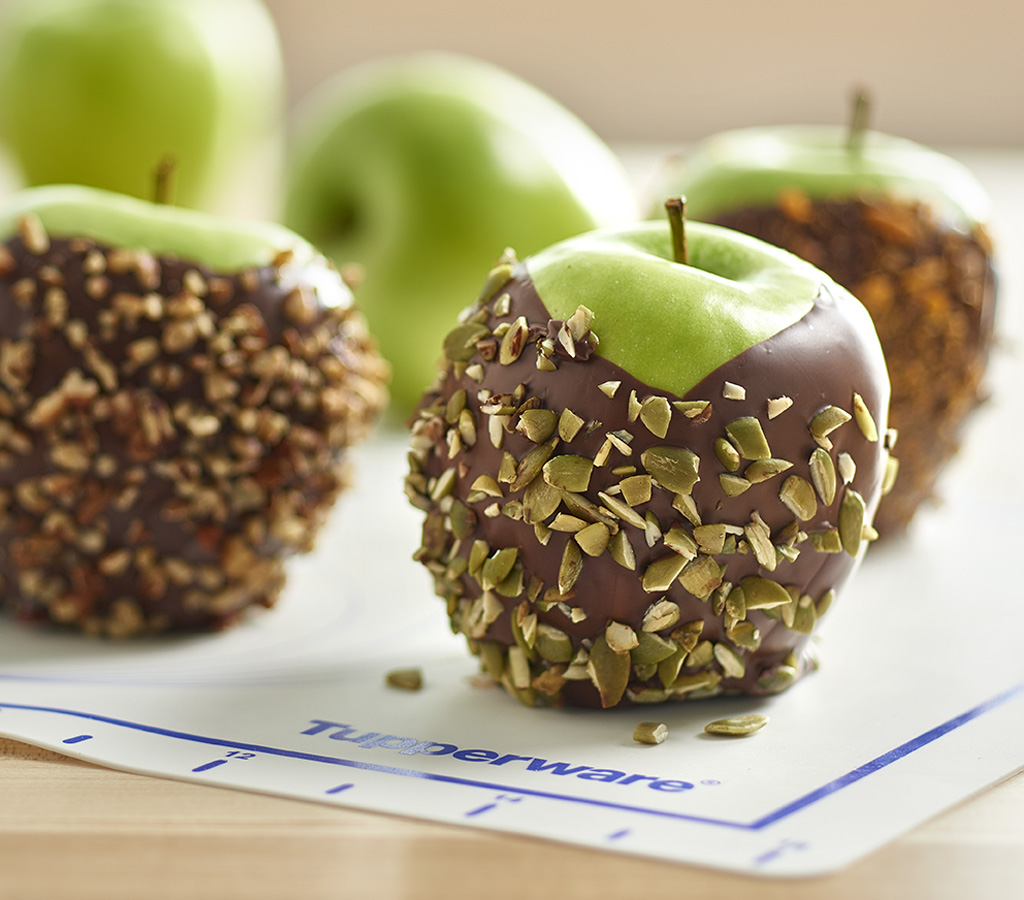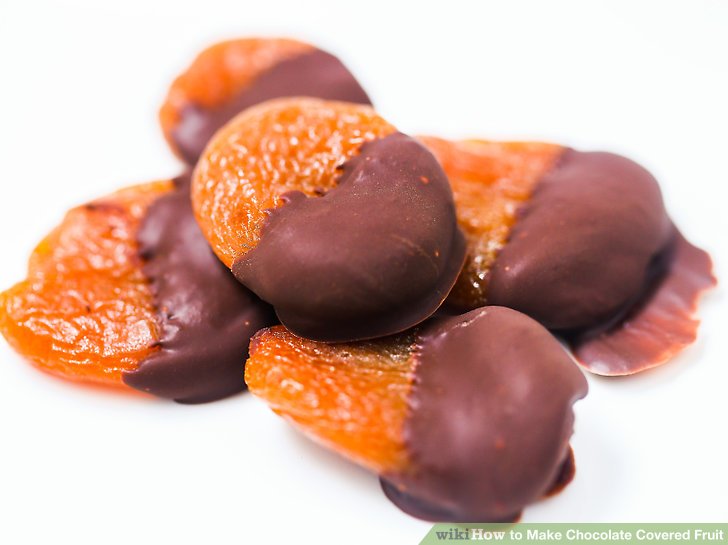 7. Spiders on a log
Ants on a log with a Halloween twist. Take your celery, your nut butter (almond, peanut, cashew, whatever floats your boat), and place plastic spiders across the celery. Or, simply use raisins or chocolate chips and call it Spiders on a Log.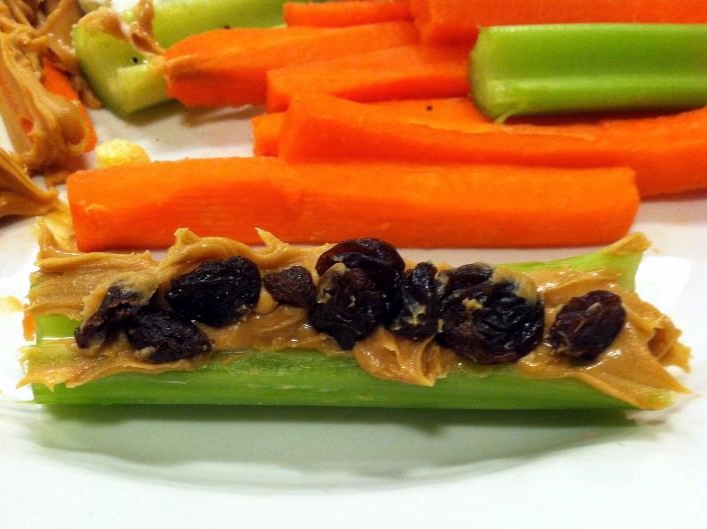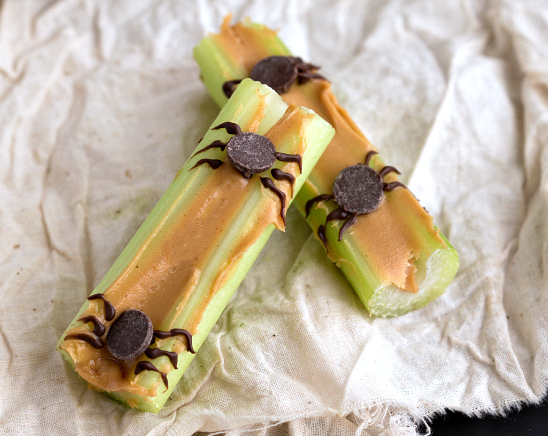 8. Pumpkin Caramels
Pumpkin anything is all that people want to eat between the months of October and November. So why not put it into your caramels? Pumpkin is surprisingly healthy and low-carb/sugar, making it a great baking additive.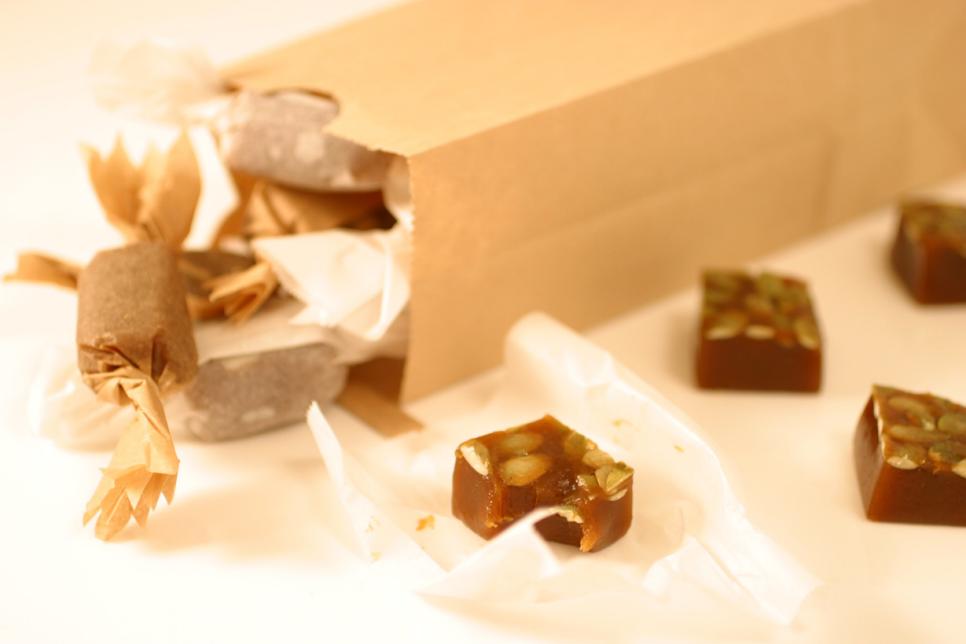 9. Chocolate Bark
Homemade chocolate bar is still letting you and your kids have the sweet chocolate you crave without all the processed additives. Melt some dark chocolate (or bittersweet chocolate if you don't like dark), throw in some nuts and pumpkin seeds for an added crunch and health factor and you've got a delicious homemade candy bar.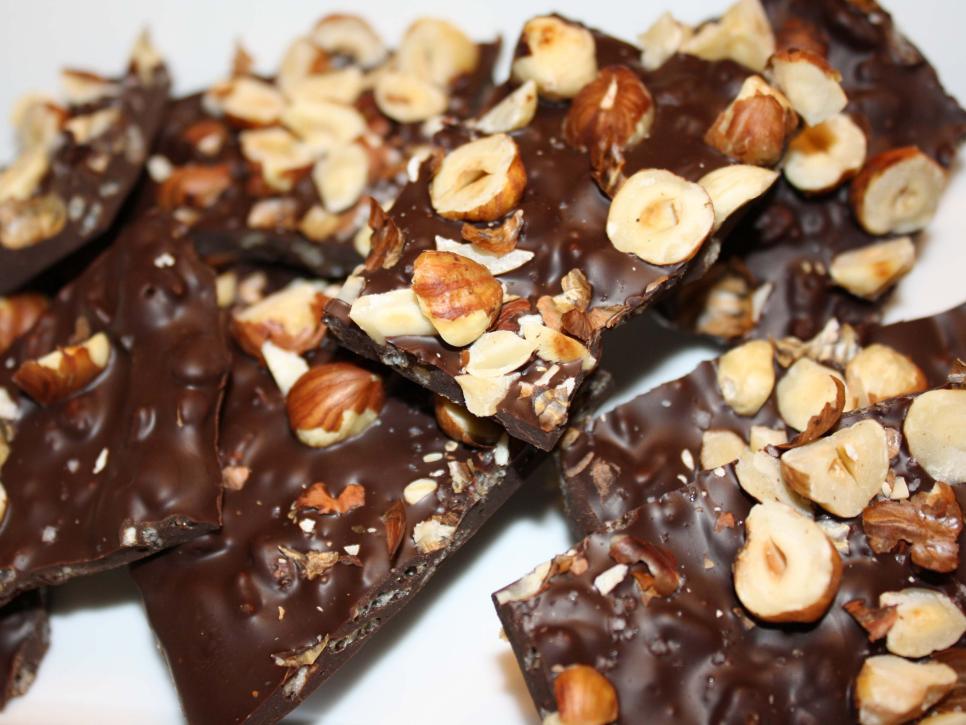 10. Spider Bites
Chocolate dipped pretzels are always a perfect treat. The mix of sweet and salty together is just a perfect combination. Making the at home lets you control the amount of chocolate you coat the pretzels in, putting it a bit more on the healthy side. Take a bag of small skinny pretzel sticks and dip them in your melted chocolate. Immediately after they are dipped, assemble them in a spider like formation with 8 legs. Let dry and you've got chocolate spider bites!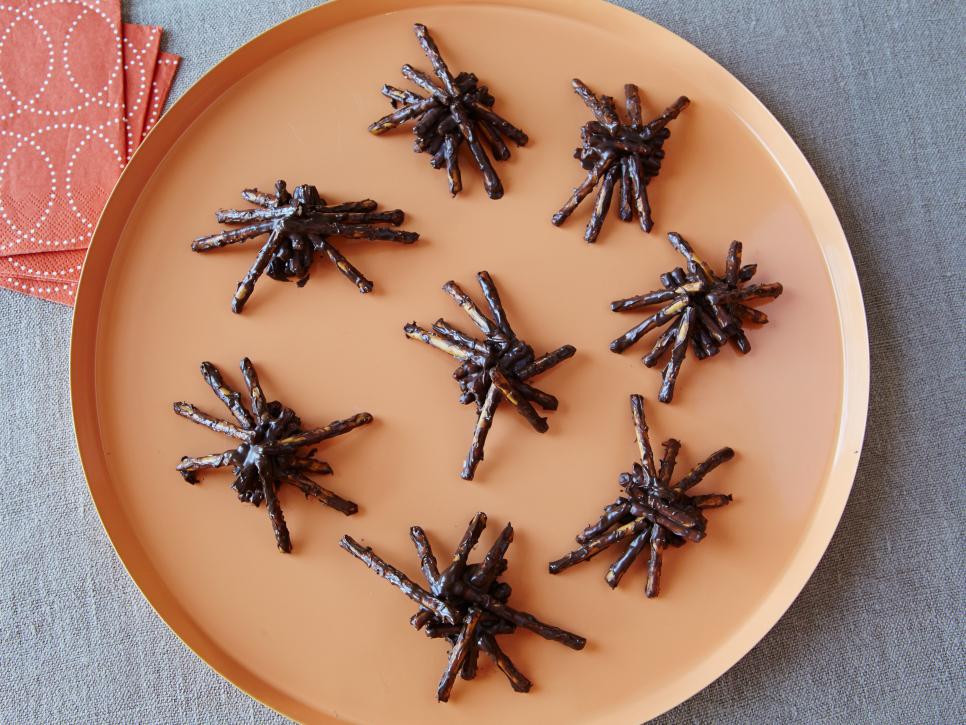 For all of these recipes and even more, check out these three amazing articles featuring healthier Halloween treats! Don't forget to stop by Elements Massage on October 28th between 10am and Noon for our trick or treating surprise! There will be treats for kids and adults.
http://www.foodnetwork.com/healthy/photos/healthy-halloween-recipes
​​​​​​​https://www.beachbodyondemand.com/blog/13-healthy-halloween-treats
​​​​​​​https://www.everydayhealth.com/healthy-halloween-treats-for-kids.aspx#11