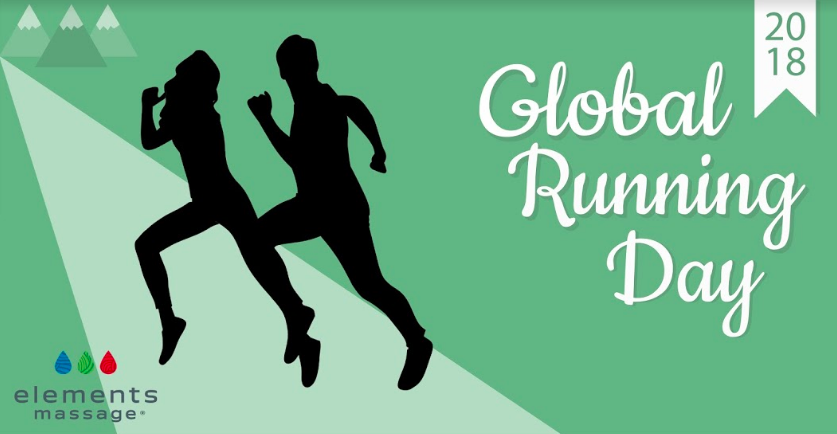 On June 6, 2018, join the rest of the world in Global Running Day! A day that promotes health and wellness around the entire world. Whether you are a seasonal runner already or looking for a reason to start a running regimen, this is your day. Running on global running day is definitely an easy way to help celebrate this day and exercising in general; however, there are plenty of other ways to observe this day as well as reasons you should.
Running
As mentioned, going for a run is the simplest way to celebrate Global Running Day. Whether you run for 1 block, 1 mile, or 1 half marathon, this is great way to observe the day and improve your health as well. Go by yourself or grab some friends, the choice is yours!
2. Goals, Training & Races
Are you too busy to fit in a run on June 6th? Create a long term training plan and/or sign up for a race. Even if you do go for a run on the 6th, this is a great way to continue a new healthy plan. You can make a goal to train 3-4 times a week, sign up for a 5K, 10K, half marathon, marathon, or anything else that appeals to you. But setting goals, training plans, and registering for races will hold you accountable for your health and new exercise regimen.
3. New Shoes
Whether you're an experienced running or looking for the motivation to start running, buying the equipment is always the fun part. Grab a new pair of running shoes to fuel your motivation and exercise. Experts also say that well-used running shoes should be replaced regularly (sometimes as soon as 6 months after purchase). If you're in need of a new pair, this could help you go further and faster.
4. Food
Do it for the food. The more you run, the more you can eat. While we're not saying going on a run qualifies you for a meal at McDonalds, 30 minutes of running can burn up to 345 calories. This means that you can (and should) eat more in your day, and gives you more wiggle room for those guilty pleasures and indulgences.
5. Health
There are so many amazing benefits that running provides to humans. Studies have shown that people who run 12-19 miles per week have a stronger immune system, you use over 200 muscles in your body just to take one step while running, and one billion running shoes are sold every year. These statistics not only illustrate health benefits, but also how popular running is around the world. Going for a run can reduce stress, help you lose weight, reduce blood pressure, improve cardiovascular health, prevent osteoporosis, and improve overall life expectancy.
As you can see, there are plenty of reasons to celebrate Global Running Day, and no reason to stop after June 6th. Start a training and exercise regimen that will take your health to the next level. If you're looking to lose weight, running will help. Need to reduce stress, blood pressure, or cardiovascular disease? Running can help with that. Want to challenge your body and muscles? Running can do that.
One thing that can also improve running, is massage therapy. After you work your muscles so hard, having a full rub down and massaging the muscles used, your body will be reset and ready to take on any distance or speed. After you celebrate Global Running Day, make sure to schedule your massage appointment. We can't wait to see you and hear about how you're celebrating on June 6th!