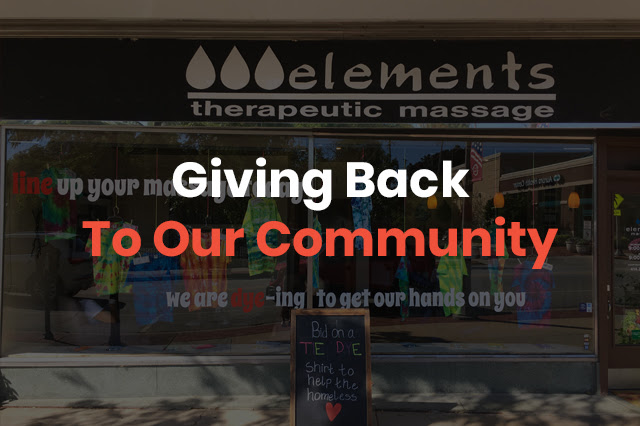 January is Poverty Awareness Month and it is a time for organizations and communities to take initiative to help those in need. In the spirit of this, our staff here at Elements wants to shed light on the Street of Angels of Milwaukee. This nonprofit organization is dedicated to restoring hope, empowering individuals, and providing basic needs to people within the community. Our staff and clients at Elements will be extending our support to the Angels who go out three times a week to offer clothing, food, blankets, and hygiene items to the homeless population of Milwaukee. Our staff has chosen to focus on this organization because we believe the Streets of Angels in MKE has a strong message. We are asking our clients and community members to join us in helping Street of Angels of Milwaukee by donating directly on their website or dropping off their Wish List items (puzzles, word search/crossword puzzles, pens, pencils, crayons, markers, art supplies, adult and children's coloring books, books and magazines, scotch tape, kids' scissors, small craft activities, new or gently used men's jeans size 30, 32, 34, 38, sweatpants M-3xl, sweatshirts (m-4xl), thermal underwear, ladies leggings all sizes, tents, toilet paper, candles, hand sanitizer, body wipes, blankets, sleeping bags and hygiene items) at our location. Let's work together to help our community!
Did you know that in 2018, it was found that roughly 38.1 million Americans live in poverty? Almost 1 in every 6 children live in poverty, which amounts to about 11.9 million kids. Further, the rate for people living in poverty with a disability was 25.7% [in 2018]. With numbers like these, it's important to reexamine how one is giving back to their community. If you're not sure where to start in efforts to help out, both the staff and clients at Elements have put in time and effort to many organizations that could use your help, too.
This past December, we had a great collection for Toys for Tots, which is a program designed to help distribute toys to children whose parents can't afford to buy them gifts for Christmas. In light of COVID-19, we also sponsored a back-to-school community event where kids could decorate masks for free. In the past, we've held silent art auctions. Holding an auction doesn't have to be exclusive to artwork, though; you can have fun at your staff or client events by tie-dying shirts and auctioning them off for the homeless.
If you're looking for specific organizations to give back to, Elements has partnered with Two Men and a Truck, Ladies of Charity, and many more. In our partnership with Two Men and a Truck for their Movers of Moms program, our staff and clients dedicated their time to donating household items and toiletries. We also enjoyed collecting clothing for LOC Milwaukee. Ladies of Charity Milwaukee is an organization to help clothe K-12 children in need within the community.
In addition to working with local organizations on clothes and household items collections, Elements Massage supports the communities most basic need, food. The Hunger Task Force of Milwaukee holds many food drives, one of their most popular being a peanut butter winter food drive. These drives have been postponed due to COVID-19, but there are many local fire departments that are still participating.
There are endless ways to give back to the community and there are so many local organizations that can use your help! While this month is dedicated to raising awareness to Poverty USA, look for ways to help out your local neighborhood year-round. We hope you can extend your efforts to Street of Angels Milwaukee and help out a great cause not just this month, but every month.