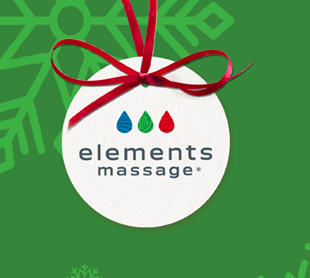 It is officially the season of giving! Somehow we are passed Thanksgiving and are finding ourselves in December. Not only is it a new month with new promotions, but we also have some of our most amazing promotions yet. December is filled with holidays, giving, family, and more, but also a little bit of stress. We are here to make your December better, easier, and a little less stressful. This December we have special offers for absolutely everyone. Whether you are an Elements Massage Wellness Program member or not, we have something for everyone.
During the festive month, we are bringing in a special aromatherapy from December 1st to December 24th: Peppermint. Destress and stay in the holiday spirit the entire time. For more information on the amazing benefits of peppermint essential oil and aromatherapy, check out our blog post covering everything you need to know.
Another special December offer is our 30 minute sessions. With travel arrangements and family to keep track of, kids on holiday break, shopping for presents, and more, there is hardly any time for you relax. However, Elements Massage is offering 30 minute massage sessions for $25 for the entire month of December. Give yourself a little relaxation and a little time to destress without taking up the time you need to run to the toy store. This is definitely an offer you don't want to miss out on.
We hope you're not busy from December 19th-20th because we are having a special FLASH sale! You will have one day to redeem this amazing offer online. We will be selling 1 hour massage gift cards for $69! Our deals don't get better than this, so make sure you go online to take part in it. Limit is 4 per person and is the perfect gift for family or friends, or a reward for yourself for making it through yet another holiday season.
For our loyal clients who are a part of our Wellness Program we want to treat you right and reward you for your amazing loyalty. For the month of December you can buy two 1 hour massage gift cards and get 1 free, making it an incredible $66 per massage. Similarly, non-members have the opportunity to buy two 1 hour massages for $150 dollars, bring the per-massage price down to $75! Also, for those who are not Wellness Program members yet, if you sign up during the month of December you will receive a special gift with a $125 value. Give yourself or a loved one the gift of regular massages by gifting them a membership to the wellness program. There is no better gift than the one of relaxation.
Whether you are in need of some gift ideas for friends and family or need something for yourself before a holiday breakdown occurs, we have all the solutions you need. With our amazing December deals there are options for everyone and anyone. For more information about our December promotions check out our Facebook page for constant updates about when and where you can purchase these offers!