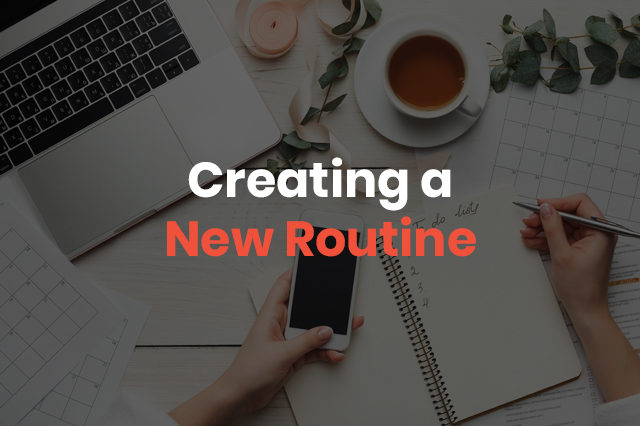 Humans are creatures of habit, and most of us love to stick to a routine. With all current events happening, maybe you were taken out of your routine and are feeling a little lost. It's always good to remaster and switch up your routine to keep things refreshing and exciting. It's especially important to take time out of your day for yourself. Self pampering and self care like an hour of exercise, a bubble bath with a good book, or a massage, can be super beneficial for your mental, physical, and emotional health.
If you're not sure where to start on creating a routine, we've listed five important things to include in your everyday tasks.
Set Small Goals
It can be exciting to tackle a big goal in one sitting, but that could take away from other things that need to get done. If you set small daily or weekly goals of the big goal, you can give more of your attention and care to it and focus in on the small, important details that can often get overlooked if you're rushing to get it all done at once.
Start off on a Positive Note
Stress at work, school, and whatever else life throws at you can become a lot. It's important to mentally and emotionally prepare yourself for the day! It could be a quick 10-minute meditation, going for a walk, or even getting your favorite coffee drink can set you up for success to tackle the day with a positive mindset.
Prioritize
What do you know absolutely needs to be in your routine? Prioritize what's the most important to you for that day. Maybe you only have a free hour for exercise or down time but not both… which one would benefit you the most that day?
Visualize
Make a to-do list and add events and appointments to a calendar! Being able to check off things, even if it's "drink a glass of water" is rewarding and you'll find yourself wanting to check more and more off of the list as the day goes on.
Reward Yourself
Something we often forget to do is reward ourselves. If your to-do list has three tasks or 13 tasks, completing them should be rewarded! This could be with a glass of wine, some alone time with your favorite TV show, or our favorite, a massage!
If you're experiencing pain from sitting at a desk all day, or maybe you're sore from your daily exercise that you've included in your new daily routine, a massage can help with those physical aches and pains as well as mental and emotional fatigue. Massages help reduce stress levels by releasing endorphins, serotonin and dopamine. If you have further questions on the benefits of massage therapy, give Elements Massage a call today! (414) 332-3260