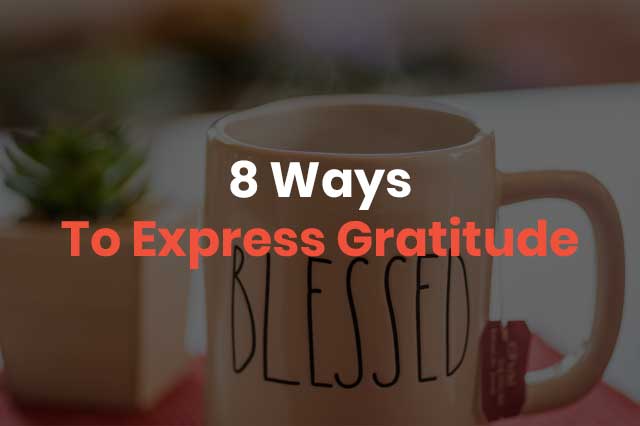 It's easy to get caught up in the stress and anxiety of work, school, home responsibilities, and everything else life throws at us. The holidays are a great time to express gratitude for friends and family, co-workers, and ourselves! We've compiled a list of ways you can show appreciation today.
Give a Little Gift

Buying your partner's favorite flowers at the store or your friend's favorite candy is an easy way to show them how thankful you are. You can even give the gift of a relaxing massage session or a night out. There's no gift too big or small to show a little love. Giving a gift to someone you care about is an easy way to show gratitude.
Adopt the Habit of Grateful Thinking

Research shows it can take 21 days to start a habit. Take 5-10 minutes out of your day to meditate, journal, or just think about what you're grateful for. There's no such thing as something too big or too small to be grateful for. It could be something like your favorite relaxing candle or that special someone who made a really big impact on your life such as a parent, teacher, or colleague. Make a habit of recognizing what you appreciate in life.
Give Free Favors and Compliments

Holding the door open for someone can go a long way! A great way to do something for a total stranger may be to pay for their order behind you at the drive-through. Without expecting anything in return, just being a kind person is a great way to recognize your gratitude. Even silently wishing for good fortune, health, and happiness to those that you pass by at work and the grocery store can be impactful.
Acknowledge Birthdays, Anniversaries, and Important Holidays

This can be as simple as sending a personalized message on a card, email, or on their social media account or as extravagant as sending chocolates and flowers. Taking time to reach out to someone for any special occasion, is an easy way to let them know you're thinking of them.
Spend Time Outdoors

Express gratitude to mother nature! Yes, even say thanks for the snow and cold. Who doesn't love to step outside and feel the snowflakes gently melt on your face? We live in a world dominated by technology and at times it can be really consuming and exhausting. Take time to disconnect and be in the moment with the beauty of nature by being outdoors and taking it all in.
Change Your Perspective on the Negative Things

It's hard to be grateful when bad things happen. However, greatness can happen when you change how you look at negative situations. They become learning experiences that can transform your way of thinking. It can make you all the more appreciative for the good opportunities when they come along.
Smile

A simple smile goes a long way! You never know what a person is going through and sending a smile their way can help to give a sense of peace and oneness not only for them, but for yourself.
Express Gratitude to Yourself

This is usually an area many of us forget. While it's important to show appreciation for your family and coworkers, it's even more important to show gratitude and love to yourself. You deserve recognition for how much effort you put in at work, all you do for your family, and all of the love you give to your friends!
Elements Massage offers so many amazing services like deep tissue, trigger point, stretch massages, and more. We also offer add-ons like aroma ritual therapy and cupping therapy. Show gratitude for your friends, family and yourself by scheduling a massage. Call us today to find out more about all we offer at (414) 332-3260. We are grateful for you!