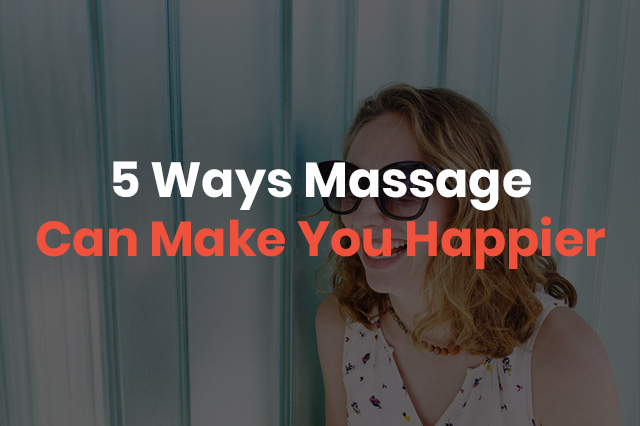 When we want a little pick-me-up, we usually indulge in some form of self care like buying our favorite latte, doing an extensive 10-step skincare routine, and of course, getting a massage. These can all elevate our moods, but did you know massage therapy can improve your sense of wellbeing long after you've left the massage table? Here are five ways massage therapy can make you happier.
Physical Relaxation
Our body can hold a lot of tension, especially when we're stressed. We all lead busy lives and if we keep adding stress to our work and home life, it can be hard to find relief. Stress can have horrible effects on the body like tensing up our muscles, especially in our shoulders, jaw, hips, and feet. Additionally, if you're active or in sports, you know just how tight your muscles can feel after practice or a killer workout. Massage therapy is the best way to relieve muscle tension because our therapists physically rub out the knots in your muscles, providing instant relief. Doing a couple of gentle stretches after your massage session can also help keep those muscles loose.
Mental Relaxation
Massage therapy has been shown to reduce stress levels by up to 30%. The human body tenses up when we're stressed and if you find yourself under a lot of stress at work, home, or both, your muscles can constantly feel knotted and tight. A massage allows your muscles to release tension and relax. It's not just about the massage; the ambient music, aromatherapy, and warm and cozy massage table that are all infused into your massage session can also help put you at ease.
Release Those Happy Chemicals
Did you know that massage therapy can increase your happy brain chemical levels, serotonin and dopamine, by 20%? Kneading soft tissue increases blood flow. As it increases, it encourages our nervous system to release endorphins and feel-good hormones.
Increased Blood Circulation
Having increased blood circulation through the body can have a lot of positive effects. Tight muscles prevent oxygen and nutrients from getting delivered to vital organs in your body, and since we typically hold a lot of tension in our neck and shoulders, we prevent oxygen from circulating to our brain. This can lead to memory loss and lack of focus. By allowing oxygen to flow freely, your lungs and heart operate better, and your brain can concentrate more, leaving you happier and healthier at the end of the day.
Well-Deserved "Me Time"
Sometimes we all need a little break from life. Your work schedule combined with the kids' school and everyone's extracurricular activities can easily become overwhelming. It is important to take time out for yourself to ensure you have the mental and physical stamina to take care of all life's challenges. So go ahead, take a break and show some kindness to yourself. If not for the physical and mental benefits, a massage is great for a designated time to just relax and spend some time reconnecting with yourself.
Whether you're looking to book a massage for yourself or a loved one, the staff at Elements Massage is here for you! Call us to discover all that we offer, happiness starts today! (414) 332-3260