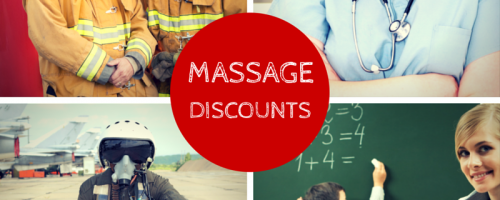 Gratitude Wednesday
Pam Garrett, Owner Mar 11, 2015
We consider ourselves so lucky to be a business that measures its success by how we improve the lives of others. Helping to relieve pain, reducing the impact of stress or just by providing a time and place of complete relaxation motivates our entire team.
We we love ALL our clients, we feel especially fortunate when we get to work with those who spend their lives serving others and - in some cases - risking their lives! In order to make it a little easier for these people to receive the benefits of massage, we created Gratitude Wednesday.
Every Wednesday, we discount any massage for NURSES, TEACHERS, FIRE FIGHTERS, or members of the POLICE or MILITARY. Just let us know at the time of booking and bring your ID at the appointment time, then... sit back, relax and let us say "Thanks" with the healing power of massage.
Share your thoughts, leave a comment!
Comments (1)
Jeanine Williamson on Sep 12, 2017
You didn't mention school bus drivers! :( Driving safely those most precious cargo isn't a piece of cake! There is a lot of responsibility and it requires 100% of all our focus which leads to tight muscles all over! We have to be present behind the wheel and manage a bus load of children! It is truly exhausting! I know all my co-workers carry tension in the neck, shoulders, hips and actually, we ache all over! All the while, we give all of our selves to those kids. Don't forget the blessed and beloved school bus driver!