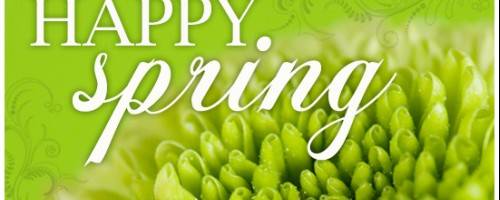 Spring has Sprung!
Shannon C. Mar 9, 2015
Spring weather has felt like it's just around the corner for a while now, but I think every Minnesotan will agree that it is finally here! The days are longer, the weather is nicer, and it's easier to be in a better mood with the sun shining down on us! Now that we can go outside without eight different layers on, it's important to keep on track with the routines you have established during the winter months. Instead of running on the treadmill, maybe hit the trail through the Reservoir Woods in Roseville or roller blade around Lake Calhoun. Take your morning coffee on the front porch, or even sit outside at your favorite coffee shop. Appreciating the world around us, even if only for a moment, can help you feel more centered before you start your day.

It's also important to remember to relax. We are busy enough as it is, and with the nicer weather, we want to pack more things in to each day. Taking time for yourself, whether it's a bubble bath, some therapeutic retail therapy, or coming in for your regular massage, is crucial to not getting burned out.
Share your thoughts, leave a comment!
Comments (0)