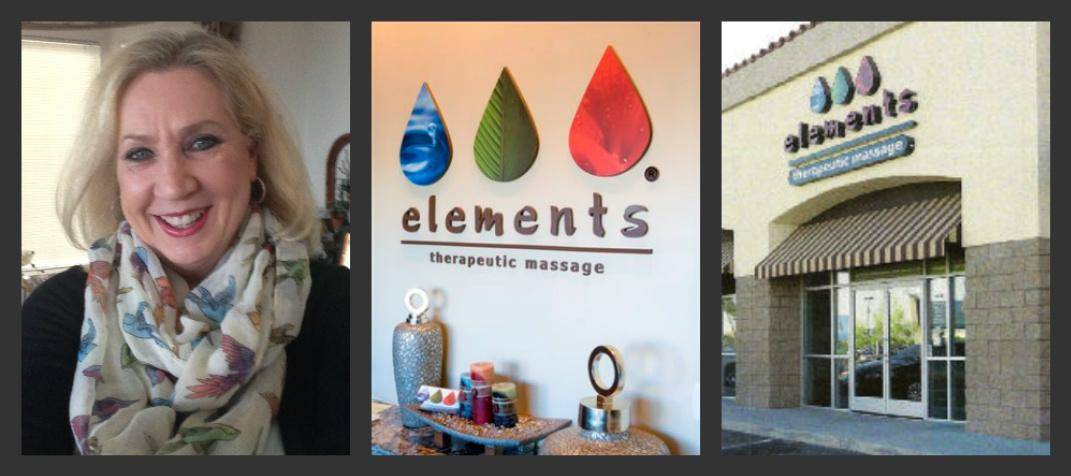 Cheri White, Owner of Elements Massage of Henderson
Cheri White Oct 12, 2012
Cheri White, President of Nevada Wellness Inc., owner of Elements Therapeutic Massage of Henderson. "I believe in giving back to the community through the healing power of touch and music; both being universal languages that bridge peace and wellness in our world".
With business expertise in the field of therapeutic massage, cosmetology & the spa industry, area cooperative advertising, marketing and franchising. I have used these tools to build our local Nevada Elements Massage brand. Elements Massage is a unique international franchise model with studios nationwide and international.
Our motto is "healing the world one client at a time through affordable therapeutic massage". The studio in Henderson has a great team of highly skilled and licensed therapists, who are dedicated to the well-being of others. We try and match our clients with Therapist, they work with their clients listening to their needs to deliver a personalize service with each massage providing the ultimate massage experience for our clients. In February 2011 our studio & myself was honored by Elements Massage as "Franchisee of the Month".
Our Studio has volunteered services at area hospitals to Doctors and Nurses, as well as teachers in nearby schools, Senior events and other many other area events. For many years we raised funds and food, to feed our area homeless. One of our Therapists, Marilyn Hanley goes to several hospitals each week taking her loving dog Cassidy to cheer up children, patients and staff, it's a joy to have her on our team.
Prior to owing the studio in Henderson, my late husband & I owned two Jiffy Lube stores in Aurora and Highlands Ranch, Colorado. During that time my job was to grow our stores branding awareness along with marketing expertise and strong business acumen. Creating and implementing strategic marketing campaigns that led to the success for ourselves and 17 other local Jiffy Lube stores in the Denver metro area, for 22 years. Serving as treasurer of Rocky Mountain Advertising Co-op for 22 years, doing various duties as well as creating, budgeting, buying & implementing advertising programs for Jiffy Lube Franchise in Colorado.
The first business I started in 1973-1975 was a retail women's clothing store before branching into cosmetology and practicing as a licensed Stylist, working in many high end Salons and working in my own studio in the Denver/Lakewood area for about 18 years. Early on I worked at the Sheriffs Office, Lakewood PD, Jefferson Co School District and local Library. I felt The Massage industry was a perfect fit for my background and was very excited to open up the first Elements Massage in the State of Nevada.
Being a strong believer in the healing power of music and how it can touch the heart of a person and change lives has made Volunteering and giving back to our community extremely important. As past chairman of the DW Foundation of Music we focused on giving back to the community. Partnering with local musicians throughout the valley, working closely with local hospitals to bring the joy of music to children with catastrophic illnesses and Senior Homes. Like Alex Christopher Prandecki, who sang in at least 30 local senior and assisted living centers each month. DWFOM put on quality family entertainment doing fund raising events in the area to support these endeavors in 2010 to 2012.
My husband was a race enthusiast, so in our early Element years we sponsored a SRMA Race Team, that made record time on the track here in Las Vegas from 2008 thru 2011 and a SRMA Race team in Colorado from 1997 through 2009. This took us all over America, the most incredible country ever and led us ultimately to Las Vegas in 1999. We loved the area so much we decided to put down roots here in the Vegas community.
Following my passion for the cultural arts and giving back to our community, I served on the Las Vegas Philharmonic Board and Advisory Board and currently a member of the Philharmonic Guild and the Las Vegas Chamber of Commerce. I support the community programs that LVPhil does for children and students in our area through music programs and scholarships each year.
Hobbies & interests I love include hiking, bicycling, jeeping, 4-wheeling, boating, snowmobiling, photography, painting, quilting and various other activities. Rheumatoid Arthritis has slowed me down a bit but I still enjoy working and being active.
There were many things that changed my life over the years which included my father-in-law Steve White, who died from Alzheimer's in July 2010. I took him to his last concert, he could remember words to a song but not the names of our family members. My younger sister Laurie who was extremely retarded and crippled, she has spent her life in a wheelchair. If you put a tambourine in her hand and turned on the music she just came alive in her wheelchair. And lastly my brother Ron who passed from cancer at an early age, he played 6 different instruments and was part of a marching band that played for President Johnson and other celebrities.
Seeing how important Music was in their lives and the joy that it brought them, changed me, making the Power of Touch and music a huge inspiration and a corner stone of my life. Being unable to change their ultimate destinies has given me a passion & legacy to support and make a difference in our community. By supporting the Las Vegas Philharmonic and local Musicians, who give their musical gifts to so many. It has been a pleasure to sponsor and support the LV Phil through my Elements Massage studio; we look forward to growing & supporting them & the cultural arts in our Las Vegas community for years to come.
Please visit our website at www.elementsmassage.com/henderson.
Share your thoughts, leave a comment!
Comments (2)
Susan Stone on Jan 13, 2013
Gave my visiting sister & brother-in -law a gift for massage. They used it on his bday, a week ago, and said it was the best gift ever.
Thank you............
sonia C.Prusinski on Feb 20, 2015
I had a therapeutic massage today, with Corina, what a wonderful experience, enjoyed every moment of it, she was fabulous! Will diffently make another apptoiment. My only suggestion would be that maybe something to tie your hair with so it doesn't become oily. My experience was wonderful though. Will be.back!!!!