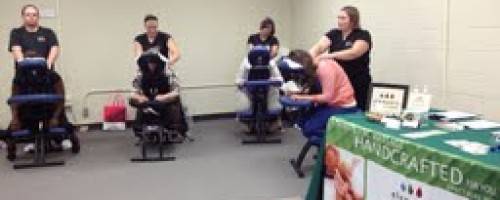 Elements Supports Department of Administration Health Fair
Jodi Jul 17, 2013
Jonah and Casey represent Elements Therapeutic Massage, Elm Grove at the Department of Administration Health Fair in Milwaukee today. The fair's theme was stress management. Massage is a great component of a wellness program to counteract stress and chronic and acute pain. The therapists were very busy with lots of folks interested in massage!
Share your thoughts, leave a comment!
Comments (0)
The Elements Way.®
Therapeutic, handcrafted, and personalized massage.
Our Studio Location
Elements MassageElm Grove
2 Miles East of Brookfield Square Mall
12920 W Bluemound Rd
Elm Grove, WI 53122
p. (262) 754-3850
View Map Favorite
Hours of Operation
Mon - Sat 9am - 9pm
Sun 9am - 7pm