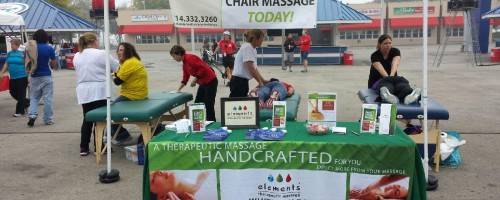 Elements Supports Aids Walk Wisconsin 5K
Jodi Oct 8, 2013
We had 3 massage therapists on hand to provide massage for supporters of Aids Walk Wisconsin 2013 on Saturday in Milwaukee. It was a party atmosphere on the Summerfest Grounds as a band rocked the crowd through the opening party. Our list for massage ran about 60 people long! Delafield, Whitefish Bay, and Elm Grove studios banded together to support this great event.
Share your thoughts, leave a comment!
Comments (0)
The Elements Way.®
Therapeutic, handcrafted, and personalized massage.
Our Studio Location
Elements MassageElm Grove
2 Miles East of Brookfield Square Mall
12920 W Bluemound Rd
Elm Grove, WI 53122
p. (262) 754-3850
View Map Favorite
Hours of Operation
Mon - Sat 9am - 9pm
Sun 9am - 7pm