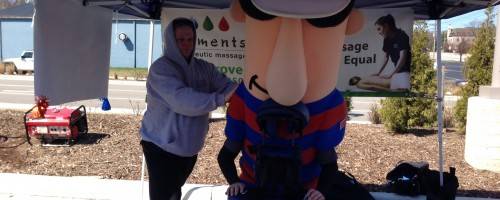 Elements meets the racing sausages at PNC Grand Opening
Jodi Apr 20, 2013
The racing sausages were lining up for chair massage from our therapist Jonah on Saturday. We had fun supporting our new neighbors PNC Bank at their new location next to Trader Joes on Bluemound Road.
The event featured Silver Spur BBQ, a bouncy house and petting zoo for the kids and of course Elements Therapeutic Massage! It was cold, but dry (never thought we'd be so grateful for that!), but many folks signed up for chair massage with Jonah and walked away feeling some relief from their knots and soreness. Thanks for including us PNC!
Share your thoughts, leave a comment!
Comments (0)