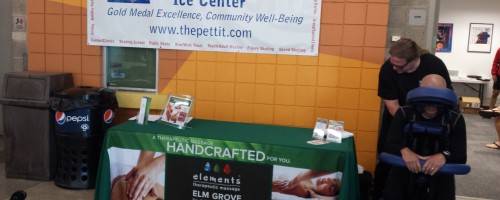 Elements is in West Allis Offering Massage to Runners at the Pettit
Jodi Jul 27, 2013
Jonah and Jodi were on hand Saturday morning at the Pettit Center in West Allis for the 2013 Heat Breaker Half Marathon. A number of runners were running multiple half marathons. Jonah provided massage to ease sore hamstrings, quads and calves. One of the runners we worked on was Lindsey who had beaten her personal best for the 1/2 marathon distance. Congratulations to Lindsey and to all the athletes who finished the race! Also thanks to Chris Ponteri for organizing another great race.
Share your thoughts, leave a comment!
Comments (0)
The Elements Way.®
Therapeutic, handcrafted, and personalized massage.
Our Studio Location
Elements MassageElm Grove
2 Miles East of Brookfield Square Mall
12920 W Bluemound Rd
Elm Grove, WI 53122
p. (262) 754-3850
View Map Favorite
Hours of Operation
Mon - Sat 9am - 9pm
Sun 9am - 7pm