Elements Massage
Location
Elements MassageHenderson
Near Lowes at Eastern & St. Rose
2970 Saint Rose Pkwy
Suite 130
Henderson, NV 89052
p. (702) 243-3386
f. (702) 260-7548
Map
Hours of Operation
Monday - Saturday
9:00 AM - 9:00 PM
Sunday
10:00 AM - 7:00 PM
Closed Major Holidays

Here is what are clients had to say:
8/14/2014 Very Professional and personalized service
8/12/214 Your promptness, professionalism, and kindness ----- + the massages!
8/9/2014 The studio was very beautiful. My massage therapist listened to what i said, and did accordingly. His energy was awesome. His calming presence made the massage even more enjoyable. I have had MANY MANY massages in 20 years, and this one was in the top!! Thank you. I know I will be back. Thank you for the special promotion to return.
7/7/2014 It is a friendly environment. They saw me on time. It was a great massage. I liked the nice added touch of the chocolate and water at the end.

Elements Massage Henderson
Not All Massage is Created Equal.
The Elements Massage™ therapists in Henderson, NV listen to your needs and employ the proper techniques to deliver a truly therapeutic experience.
We invite you to experience the rejuvenating benefits of massage therapy today and discover the positive effect it can have on your body and your well-being.
Therapeutic massage is a medically proven method for supporting your health and wellness. You'll enjoy benefits of…
Relief from back and neck pain
Reduced stress
Increased circulation
Improved range of motion
We have hundreds of weekly massage appointments available. Contact us to schedule a massage session, or visit us today. Walk-ins welcome!
From The Blog
Apr 17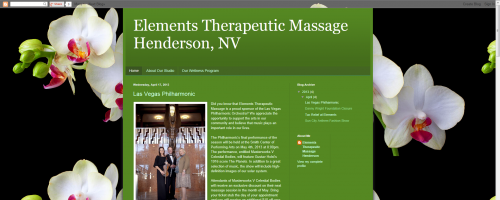 Elements is on Social Media
Elements Therapeutic Massage has a new blog! You can also like us on Facebook! Please visit us for up to date information on specials, events, and news.www.facebook.com/etmhendersonetmhenderson.blogspot.com@ETMHenderson
Oct 12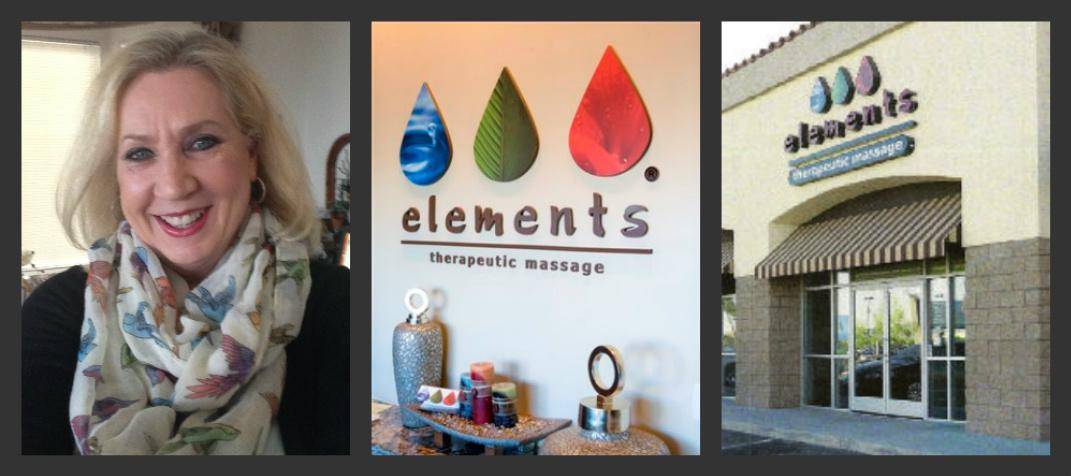 Cheri White, Owner of Elements Massage of Henderson
There are 2 things that I am extremely passionate about and that is the Healing Power of Touch and Music. So I wanted you to know alittle about myself. This is our third year to support the Las Vegas Philharmonic, watch for our commercial on Fox...