At Elements Massage Spokane, we are constantly striving to provide the best therapeutic options as we partner with you to achieve the best body and mind possible in your ongoing journey towards optimal health. We are excited to have the opportunity to provide Float Therapy at our North Spokane Wandermere location.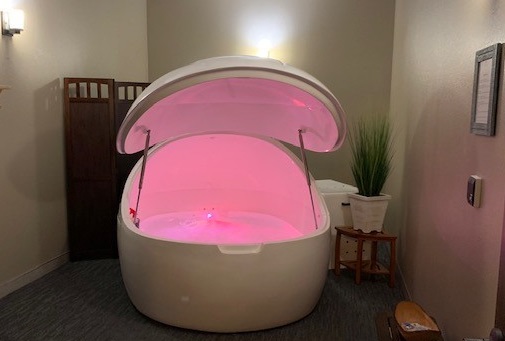 Around for over 60 years, Float Therapy was invented by neuro-scientist Dr. John Lilly based on the scientific approach to deep relaxation called R.E.S.T. (Restricted Environmental Stimulation Therapy) here in Washington State. The deep relaxation achieved reduces the central nervous system's workload by as much at 90% allowing the mind to counteract the bombardment of stimulus to the brain which can become overloaded with its daily processes.
Float Therapy is a type of hydrotherapy, simulating zero gravity through the process of dissolving 800-1000 pounds of Epson salt into approximately 200 gallons of water. This is done in a small, shallow pool, similar to an enclosed jacuzzi, and warmed to 94.5 degrees to create a temperature neutral environment for your body.
The floatation pod is enclosed, lightless, and soundproof, creating a sensory free environment by shielding you from light, sound and gravity. By removing the pressure of external stimuli, your body and mind are more easily able to achieve healing from within.
A perfect way to unwind in a meditative Zen state, regular floaters often experience increased immunity, increased sleep patterns, accelerated injury recover, increased energy, stress reduction, improved thinking and creativity among a host of other benefits.
Here at Elements Massage Spokane we are excited to add Float Therapy to our array of specialized treatment options. We welcome any questions regarding this exciting new arrival to our studio and welcome you to relax and rejuvenate in the isolation of Elements with a Float Therapy Session at Elements Massage.