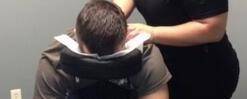 Office Wake-Ups
Elements Massage Scottsdale Promenade Jan 31, 2014
Spending eight or more hours at your desk can make it difficult to stay awake on the best of days, but it can be even more difficult if it's the end of a very long week, finishing up a project, stayed up a little too late the night before, or stayed up with a baby among innumerable reasons. There are some tips and tricks that can be put to use at the office to help you stay awake and focused. These are also great ways to boost energy midway through the day even if you did get an adequate amount of sleep the night before.
Munching on some smaller, healthy snacks throughout the day is one way to maintain energy throughout the workday. A plain yogurt, some protein-rich nuts, and granola bars are great for breaking up meals into smaller pieces. This helps you avoid a crash after a big meal that can make you dozy in the afternoon. Another easy way is to make use of pressure points and simple massage techniques. Rubbing the back of your neck, the back of your hand (the space between thumb and index finger is the best), just below the knees, or your earlobes can improve circulation and ease fatigue. Even something as simple as standing up and moving your body through a few simple stretches can help blood circulation. Rolling your neck for about twenty seconds helps as well, and you don't even need to stand up to do it!
Even better - Elements Massage Scottsdale Promenade offers in office 30 minute massages call: 480.998.2120
Share your thoughts, leave a comment!
Comments (0)