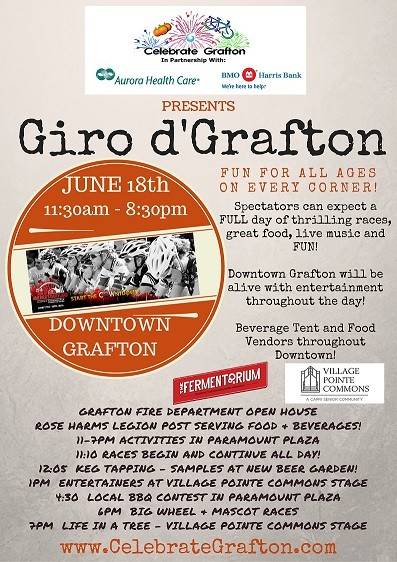 Free Chair Massage at Giro de Grafton
Jun 18, 2016
Free Chair Massages at Giro de Grafton, Day 2 of "Tour of America's Dairyland" Bike Races
Tour of America's Dairyland presented by Wisconsin Milk Marketing Board is the largest competitive road cycling event in the United State. In its eighth year, "ToAD" will host an average of 500 pro and amateur racers on the starting line each day in 10 Wisconsin communities, June 17-26, 2016, including two dates on the coveted USA Cycling Pro Road Tour. Representing 36 states and 13 countries in 2015, racers competed for more than $175,000 in cash and merchandise before an estimated 155,000 passionate spectators. A phenomenal family-friendly event, spectators can expect roughly eight hours of high-energy racing daily with speeds topping 35 mph during the Pro races, food and drink, entertainment, specials guests such as Alice in Dairyland, kids' activities and more! ToAD is a proud supporter and partner of the Wisconsin Bike Fed, the country's largest statewide bicycle organization.
Elements Massage will be providing Free Chair Massages at the Paramount Plaza today at Giro de Grafton
Share your thoughts, leave a comment!
Comments (0)