Massage 101: Ten Tips to Getting the Best Massage
Oct 7, 2014
When you make a commitment to routine massage therapy sessions, you're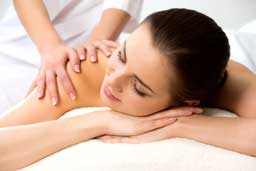 committing to a lifestyle that is focused on overall health and wellness. To make sure that you're getting the best massage every time, Elements Massage suggests adopting the following top ten tips to enhance your massage therapy experience.
Tip No. 1: Set a Goal – Identifying what you want to get out of your massage – relaxation versus rehabilitation – before your session can make a big difference in having a satisfying experience.
Tip No. 2: Experience Counts – If you haven't found your favorite therapist yet, do some research by reading reviews and calling the local studios in your area to find the best therapist to meet your needs. Every therapist has different types of experience and focus areas so Elements Massage ranks their therapists by pressure levels and expertise so that studios can match their clients with only the best therapists to meet their needs.
Tip No. 3: Speak Up – Communicating with your therapist before your session about how you're feeling, your medical history and what you expect from the session will help to keep your session focused on your specific goals.
Tip No. 4: Arrive Early – Plan to arrive 15 minutes before your scheduled appointment to give you time to prepare your mind and body for the session.
Tip No. 5: Leave Your Electronics Behind – Getting a massage is one of the few places where you can, and are encouraged, to push distractions aside. Clear your mind by leaving your phone and electronic devices in your car or at home so you can literally unplug during your session.
Tip No. 6: Hydrate Appropriately – It's important to drink plenty of water before and after your appointment.
Tip No. 7: Remember to Breathe – Relaxing long breaths from your abdomen doesn't just help you relax mentally during your session, but it also helps your muscles relax as your therapist works out your body's stiffness and tightness.
Tip No. 8: Provide Feedback – Your massage session should be tailored to your specific needs so make sure to tell your therapist throughout your massage whether he/she is focusing on your tight areas and providing the right amount of pressure.
Tip No. 9: Find Your Comfort Zone – Whether you prefer a heated table, dim lights or a particular kind of music, everything about your massage should be focused on making you feel good and comfortable.
Tip No. 10: Have a Buffer Zone – Schedule extra time after your massage to relax and recuperate your mind and body before you head back into the hustle and bustle of life.
The certified expert therapists at Elements Massage are committed to giving you the best massage experience every time. Experience the therapeutic, handcrafted and personalized massages that Elements is known for by scheduling your next massage at your local Elements studio.
Share your thoughts, leave a comment!
Comments (13)
Deanna R. Jones on Jan 06, 2016
One of my friends gave me a gift certificate for a massage as a Christmas present. This will be my first massage, so these tips will help make it more enjoyable when I step into the spa. I'm glad that you mentioned to drink plenty of water and to breathe throughout the massage. I've made it a habit to forget to drink enough water every day, and sometimes I find myself feeling so tense that I'm holding my breath. I want this to be a pleasant experience, so I'll take your advice and drink water throughout the week before going in for my massage. Thanks for the tips!
http://www.studio7ss.com/#!massage/cy5g
emily bennette on Jan 27, 2016
I liked your tip about making sure you are hydrate before you go in for your <a href='http://www.innerbeautyconcepts.com/massage_therapy.html' > massage</a>. It seems like it would be a good idea to do that so your muscles can relax. Which will help you get rid of all the aches, pains, and stress easier as well.
Justin Knox on Feb 08, 2016
Thank you for the help. I have been very stressed recently, so I am going to get a massage for the first time. I hadn't thought about staying very hydrated specifically for the massage. What are some of the effects of getting a massage while dehydrated? http://www.therapeuticmassagesarasotafl.com/Physical_Therapy_Swedish_Massage_Sarasota_FL.html
emily bennette on Mar 22, 2016
Providing feedback seems like the best thing to do when you are getting a massage. If you are injured and the pain is too much from the massage then you should really let the therapist know that. If you don't then not only will your experience be bad, but you could make the injury worse. http://rawtherapies.com/physiotherapy/
Jack Palmer on Apr 04, 2016
I can see why communication with the massage therapist could be the difference between a good and bad experience. I have never had a massage before, but my wife and I are thinking of doing a couples massage. We aren't injured in anyway, we simply want a good, relaxing time. I'll have to try my best to clearly explain that before we start. Thanks for the great idea! http://www.painreliefplace.com/hi-dowmassagerinformation
Kyler Brown on May 02, 2016
I recently started going to a massage therapist for regular treatments. I really appreciated these tips for getting the most out of your visits. I hadn't even considered the importance of hydrating myself properly, and making sure to breathe appropriately. Thanks for sharing this. http://www.gulfcoastmassageandskincare.com/packages
April Cook on May 16, 2016
I like your tip to leave your electronics behind. It can be hard to pull myself away from my phone, but I think it would help me relax so much more. I also like tip 6, to hydrate properly. About how much water should you drink before a body massage? Thanks for these great tips! http://www.templeskincare.com.au/service-menu/day-spa/body-rituals.html
Sarah Smith on May 18, 2016
My sister wants to do a spay day and is trying to find a good place that gives massages. Thanks for the advice about getting the most you can from your message. I like how you mention setting a goal about whether you want to be relaxed or rejuvenated. I'll have to make sure to set a goal and be hydrated before I go. http://www.newburyspa.ca/services_treatments
Jade Brunet on Jul 13, 2016
My old job required me to carry around a bag on one shoulder all day. Now I find myself with back pain and I am unable to sit still. After reading this article, it looks like massage therapy might be a good solution for me. It is good to know that one can speak up and communicate with the therapist informing them of what one is expecting out of the visit. Thanks for this information. <a href='http://www.covemassage.com/massage-menu.html' > http://www.covemassage.com/massage-menu.html</a>
Sariah on Dec 06, 2017
I'm thinking of getting a massage therapy soon, and I want to make sure that I get the best experience. I think communicating with my therapist about what I want to get out of my massage will help to keep the session focused on my specific goals, and can give me a satisfying experience. I'll be sure to follow this and other tips once I decide on whether or not to get the service. Thanks! http://dccrocksprings.com/about-us/services---techniques.html
Bobby Saint on Jan 13, 2018
I like that you provided some tips on how to get the best massage such as considering the experience of the therapist. It is recommended that you do your own research and choose one that has been in this kind of profession for a long time. This only means that the therapist has serviced a lot of clients and has a vast knowledge of the different massage styles and techniques. This would definitely ensure that you would have a worthwhile experience. If I were to undergo massage therapy, I would make sure to keep this in mind. Thanks. http://www.burgmanchiropractic.com/massage-therapy
Bobby Saint on Jan 30, 2018
I totally agree with tip # 2 about considering the experience of the therapist when looking to get the most out of your massage therapy. It is important to look for one that has been in the profession for many years. This only means that the therapist has already serviced a lot of clients and has a vast knowledge of his area of expertise. If I were to look for a massage therapist, I would make sure to take this into account. Thanks. http://www.massagetjr.com/
Jay on Apr 09, 2018
Number 8 is really important. Keep track of where you are hurting. Knowing which areas, like it says, need the work can make the massage all that more beneficial to you! Thanks for these tips, I can't wait to use them! http://www.massagetjrspa.com/