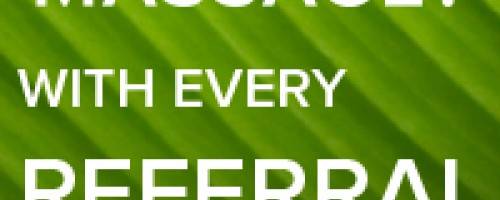 Refer for Better Wellbeing
Elements Massage Scottsdale Promenade Apr 21, 2014
Hopefully, you are one of the increasing numbers of Americans who have added therapeutic massage to their health care routines. A monthly or weekly massage reduces stress, improves flexibility, boosts immune systems, manages pain, and improves mood. All of these are fantastic benefits to receive without pharmaceutical intervention, and more people are realizing this with each passing year. The most recent numbers show that more than half of the people surveyed have received a massage in the past year for health reasons – not just personal pampering. Are your friends and family aware of this? If not, you should tell them!
And in case improved health and wellbeing isn't reason enough to talk to people about getting a massage, then we are willing to sweeten the pot. With each referral, you earn points towards free massages! If you refer three new clients to Elements Massage Scottsdale Promenade for their first massage, then you receive a free upgrade for your membership to save more on massages. If you refer five people for their first massage, then you can look forward to a free fifty-five minute massage. Your newly referred friends and family will also be able to take advantage of Element's discounted price for first time visitors. While you enjoy the benefits of bringing your friends and family in to Elements, they will be able to enjoy their first massage for only fifty-nine dollars! Everyone improves their health and learns more about the benefits of therapeutic massage. Elements Massage at the Scottsdale Promenade wants to help as many people manage pain, stress, muscle tension, and other health aspects as they can, and one way to accomplish this goal is through the referral program.
Share your thoughts, leave a comment!
Comments (0)