Elements Massage: Sponsor of Team Massage Therapy Foundation 2023 Boston Runners
At Elements Massage, we understand what it takes to complete a monumental achievement like the Boston Marathon® and we were thrilled to sponsor Team MTF's 2023 runners. Our congratulations to Marshall Dahneke, Rulon Dahneke, David Gonzalez, Dennis Jones, and Theresa Seitz! Thank you for your efforts in raising funds to help the Massage Therapy Foundation continue their great work.
At Elements, we believe regular massages are a necessity—especially to aid in recovery after running a 26.2-mile race! We were proud to be able to offer each of the Team MTF athletes an in-kind, post-race massage at our studio location in Medford, MA. We thank our local studio staff for helping Team MTF relax, recharge, and recover!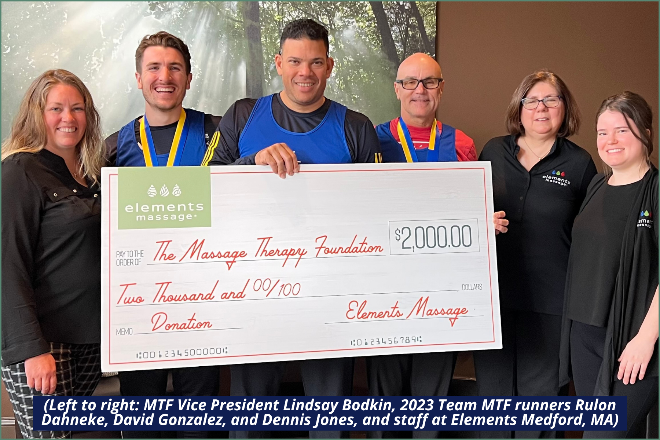 While many people consider massages a luxury, the benefits of massage therapy are well-documented. Treatments can provide therapeutic relief to people of all ages and all walks of life: from competitive athletes, stay-at-home parents, or stressed corporate executives. We support MTF's goal of funding evidence-based research into the benefits of massage, thereby increasing accessibility and awareness of the healing and restorative power of massage therapy as a vital component of overall health and wellness.
Ask any of the 3,500+ massage therapists who work at an independently owned and operated Elements Massage studio. They'll tell you they are massage specialists. Well-being and growth as a massage therapist is the cornerstone of the Elements Massage business. We are proud to support Massage Therapy Foundation programs which bring research, education, and community service to the massage therapy profession.