Page 1 of 6 Next »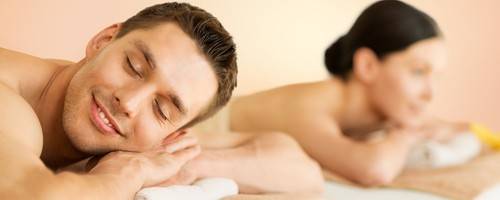 Feb 12, 2016 Health
You know the day is coming. All those red and pink flowers and pastel-tinted conversation hearts can't be wrong. Valentine's Day is upon us, and you and your sweetheart are wondering just how to celebrate. You tick off the ideas, one by one. Dinner out? Too crowded and busy. Movie theater? Sounds okay, but a little boring. Stay in and binge on cashew chicken and Netflix sitcoms? No way, buster. Your loved one is worth a little care, a little pampering, and deserves a Valentine's Day that expresses how great you think he/she is. Lucky for you, we've got you covered. What's a solution that is a gift and a date idea, all rolled into one? One that will even improve your quality of life? It's clearly time to book an Elements couples massage for you and your honey.
Page 1 of 6 Next »
The Elements Way.®
Therapeutic, handcrafted, and personalized massage.
Our Studio Location
Elements MassageNewton
Next to West Newton Cinema
1290 Washington Street
West Newton, MA 02465
p. (617) 467-6072
View Map Favorite
Hours of Operation
Mon - Sun 9am - 9pm
Cancellation policy: You are responsible for the full session fee if you cancel an appointment with less than 24 hours notice.