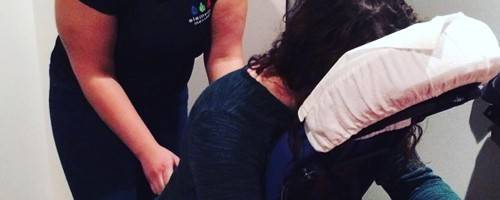 Benefits of Chair Massage in the Workplace
Scott F., LMT Mar 22, 2016
Benefits of Chair Massage in the Workplace
Luxury and spa are commonly associated with massage. Massage therapy has been found to be effective in reducing anxiety and job stress (Field, Quintino, Henteleff, Wells-Keife, & Delvecchio-Feinberg, 1997), as well as improve musculoskeletal pain and discomfort (Šiško, Videmšek, & Karpljuk, 2011). Chair massage is preferential in a workplace environment due to the small amount of space needed, time allotment, and style of massage. Table massage has it perks for general relaxation, but chair massage imbues more vigor and vitality due to the upright seated positioning and a shorten session time.
Standard chair massage sessions run from five to fifteen minutes. Therapists tend to use more brisk strokes and stretches in order to accommodate the client's needs as well as to reenergize the client for the rest of the day. Companies that regular employ chair massage to employees see an uptick in productivity throughout the day as well as an increase in workplace happiness. Chair massage are also cheaper for employees than paying for a full table session and is a great alternative for those on a tight budget.
REFERENCES
Field, T., Quintino, O., Henteleff, T., Wells-Keife, L., & Delvecchio-Feinberg, G. (1997). Job stress reduction therapies. Alternative Therapies in Health and Medicine, 3(4), 54-56
Šiško, P. K., Videmšek, M., & Karpljuk, D. (2011). The Effect of a Corporate Chair Massage Program on Musculoskeletal Discomfort and Joint Range of Motion in Office Workers [Abstract]. The Journal of Alternative and Complementary Medicine, 17(7), 617-622. doi:10.1089/acm.2010.0400
Share your thoughts, leave a comment!
Comments (0)