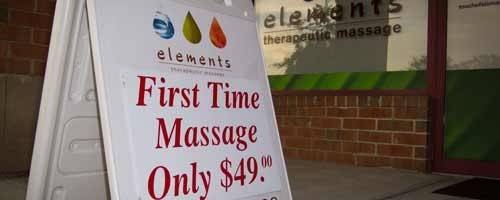 Why Choose Elements Massage Over Massage Envy? Reason 1
Jonathan Seiler Nov 15, 2013
There is one simple reason people are choosing Elements Massage instead of Massage Envy, and that one reason is quality. The quality of service you will receive includes the technicians really listening to your needs so they can give you the right type of massage therapy. Knowing that therapeutic massage is a proven method of helping people achieve wellness and Elements Massage provides a very high quality service. Our Hilliard locations take walk-ins if you are in pain or you just want some instant relaxation. For your convenience, you can also book your appointment online from their website, here.
The Hilliard Ohio Elements Massage location provides the techniques you need to relieve the pain in your back and neck, reduce the amount of stress you feel, improve your body's circulation, and improve your range of motion. Elements Massage has hundreds of appointments available weekly with their expert massage therapists.
Elements Massage does not lock you into a contract, but offer a month-by-month member plan that will give you discounts each time you come in for a session. This allows you to roll over unused massage sessions to the next month and buy gift certificates for friends at a discounted rate.
You can cancel anytime and there is no pressure to purchase upgrades that you don't want. Elements Massage allows you to call, or book appointments online - whichever is convenient for you. Their quality service, which sets them apart from other Massage therapists, extends to staying open on Saturday and Sunday. This is convenient for those who cannot make it during the workweek. If you are looking to get a massage Columbus style, there is no question Elements Massage is the way to go.
Share your thoughts, leave a comment!
Comments (1)
Terri Hix on May 02, 2014
I had a total knee replacement 1 month ago. My physical therapist has recommended effluage massage on my operative leg to reduce the swelling and tightness. Is this something you could do?