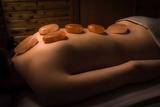 Is a Hot Stone Massage right for me?
Elements Mesa Riverview Aug 31, 2016
People often wonder whether a hot stone massage is better for them then a Swedish or Deep Tissue massage. Most people find the heat of the hot stones to be soothing and choose a hot stone massage for ultimate relaxation. However, the heat of the hot stones relaxes the muscles and allows the therapist to work deeper with less pressure, ideal for those that prefer a lighter touch but need the benefits of a deep tissue or therapeutic massage. Hot stone massage is also great for those that suffer from cold feet or tend to feel chilly, especially in the winter months. Book an appointment with Elements Massage at Mesa Riverview and try it for yourself (480) 582-4503.
Share your thoughts, leave a comment!
Comments (0)