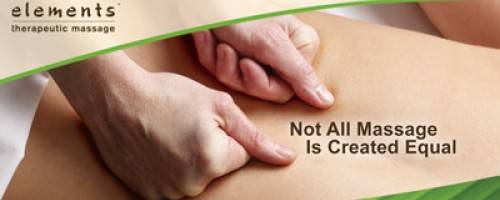 Read Real Clients' Reviews Here!
Elements Woburn Apr 25, 2012
Share your thoughts, leave a comment!
Comments (5)
Margaret on Jul 17, 2012
Love my massages here! I have tried several therapists and I love them all. Never had a bad massage!
Carol Lamb on Jan 25, 2013
I have had massages with 3 of the therapists and have enjoyed them all. The therapists are professional, knowledgeable and committed to delivering an exceptional massage experience to their clients. The studio is calming and immaculately taken care of. Lauren greets clients with a smile , is professional and is friendly as well as knowledgeable , personal and welcoming. I am thoroughly pleased with Elements of Woburn and plan to continue as a regular client!
Adriana Mendes-Sheldon on Mar 22, 2013
I love going to Elements in Woburn. Simara is great! If you are looking for deep pressure relief, i would 100% recommend her. Awesome job done on sports injuries, muscle soreness, and shoulder/upper back pain. Simara is very knowledgeable and taught me stretching techniques to extend the benefits of my massage. Extremely please with her job and the overall ambiance of Elements in Woburn.
Suelen Lamin on Aug 13, 2013
I really enjoy going to Elements! My therapist is Sinara. She is really great! Very Pleased with my choice !

michelle on Sep 10, 2013
Hello. I am looking for massage therapist who can provide abdominal adhesion massage therapy. Do you provide this type of message?