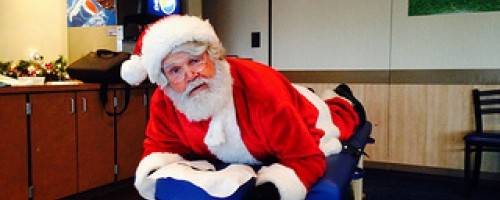 Santa Claus is Coming to Town....(as soon as he has a massage...)
Suzi Bier Dec 14, 2013
Spirits were high on December 14 in Wilsonville as participants of the First Annual Reindeer Romp 5K Run dawned their antlers and hit the pavement. With attendees old and young off and running, it wasn't long before they reached the finish line (which happened to be near The Family Fun Center and Bullwinkle's Restaurant in Wilsonville!). With hearty appetites, runners and families were all treated to pizza and drinks. To help relieve tired sore muscles, massage was provided by our skilled and gifted therapists, who were greatly appreciated.
Of course, the Reindeer Romp wouldn't have been complete without a visit from that jolly old fellow we all know and love - Santa Claus! With a "Ho, Ho, Ho," Santa took his turn on the massage table to enjoy fifteen minutes of bliss in preparation for the journey he was soon to take! Thanks to the City of Wilsonville for this opportunity to share the gift of massage.
Share your thoughts, leave a comment!
Comments (1)
Rukhsana Maqsood on Dec 03, 2017
I need support suffering from depression I need couple of attorneys to resolve my problems I know Santa can bring or I wish God send an angel and make my life normal