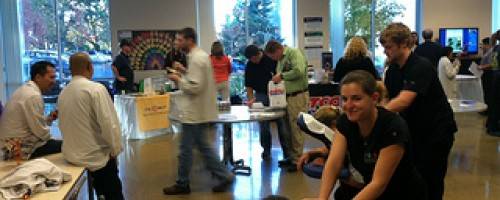 Health Fair in October!
Suzi Bier Oct 22, 2013
There's nothing like a Health Fair to get into a healthy mindset, re-evaluate your lifestyle and how it affects you health. In mid October, we bundled up our our chair, table and two of our best therapists and headed over to treat the employees of Coherent, Inc.in Wilsonvile to a taste of the wonderful benefits of massage. With a good turnout, our therapists, Toni and Tayler brought soothing relief to tired achy muscles. Employees went back to their work feeling energized and ready to take on the world!
Share your thoughts, leave a comment!
Comments (0)