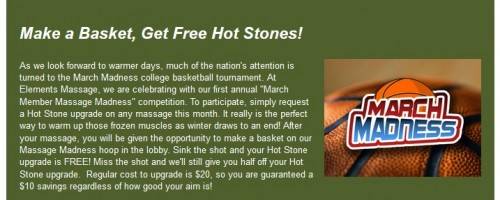 MAKE A BASKET - GET A FREE HOT STONE UPGRADE
Posted by Wendy McGrath Mar 5, 2016
As we look forward to warmer days, much of the nation's attention is turned to the March Madness college basketball tournament. At Elements Massage, we are celebrating with our first annual "March Member Massage Madness" competition. To participate, simply request a Hot Stone upgrade on any massage this month. It really is the perfect way to warm up those frozen muscles as winter draws to an end! After your massage, you will be given the opportunity to make a basket on our Massage Madness hoop in the lobby. Sink the shot and your Hot Stone upgrade is FREE! Miss the shot and we'll still give you half off your Hot Stone upgrade. Regular cost to upgrade is $20, so you are guaranteed a $10 savings regardless of how good your aim is!

If you aren't a member yet, that's ok... we still love you! Massage plays an important role in the continuous health of both mind and body, so be sure to ask us how you can begin saving $30 on every session while experiencing all the other great perks and benefits that come with a no-contract membership at Elements.
Share your thoughts, leave a comment!
Comments (0)