Careers at Elements Massage™
Licensed Massage Therapist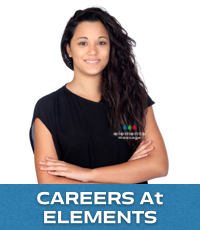 You should LOVE where you work...
Work with the best clients, hands down
Our clients look for a wide range of services. You perform the type of massage that fits your interest and skills
We are known for the highest level of customer care and attract clients who appreciate first-rate service.
Surround yourself with quality
Join our team of highly talented massage therapists who, on average, have 3+ years of experience and have worked for us 2+ years
Develop your skills with paid monthly massage and free training including small group work, CE courses and one-on-one personalized training with your fellow team members
Our team is passionate about massage and respectful of each other. Management listens & responds to team feedback
Transition with ease
We need more team members to meet our client demand, so you will start with a full schedule
Pick the number of shifts you want - no minimum shift requirements. We do ask that you be flexible with night & weekend coverage, as that's when we are the busiest.
Grow your income
Supplement your current pay with a reliable income
Enjoy many benefits including bonus pay; PTO; compensation for late cancellations & no-shows; Insurance Contribution; Aflac; and longevity awards
$300 Sign on bonus (Must average 20 hours of massage per week and be employed a minimum of 3 months)
Benefits
(We offer full time and part time benefits. Some of the benefits include):
PTO
401K
Free Monthly Massage
Free CEU's
Aflac
Reimbursement for Massage and or Liability Insurance
Town License paid for by Elements
Assistance in out of state licensing
Flexible schedule
Enjoy our hassle-free work environment
No paperwork, no marketing, no product sales - JUST MASSAGE!
Flexible scheduling & time-off
Take care of yourself
Recovery time you need to stay healthy - choose between breaks after each massage or mid-shift
Body mechanics training provided to increase effectiveness and promote your career longevity
We are an equal opportunity employer
Does this sound like your kind of home? Apply now!
Elements Massage is continuing to grow at a rapid pace and is seeking 4 Licensed Massage Therapists to join its successful and talented team. Experienced LMT's and Recent LMT graduates are encouraged to apply. Full Time/Part Time hours are Available.
The Elements Way for your career involves:
A shared belief in the healing power of massage.
A rewarding team environment with a singular focus on massage where you are paired with the right client to encourage lasting professional relationships.
Continuous training and mentoring to help you continue to excel.
A nurturing, professional environment with a flexible, consistent schedule and time off to rest your body.
All the supplies and business support you need and a steady clientele.
We take care of you so you can focus on delivering great massage.
Responsibilities and Duties
Perform 60 and 90-minute quality massage therapy sessions, with breaks
Deep Tissue, Sports, Prenatal, MFR, Trigger Point Skills and Hot Stone/Himalayan Salt Stones will be called on regularly (Certification courses will be provided)
Strong Communication and evaluation skills to meet clients needs, establish treatment plan, and deliver professional treatment recommendations
Valid STATE License
Professional Liability Insurance
Valid Driver License and reliable transportation
Benefits
$300 Sign on bonus (Must average 20 hours of massage per week and be employed a minimum of 3 month)
$250 toward out of State License Transfer fee and MBLX assistance
Average $35-$55 per massage including tips.
License & Insurance Reimbursement
Free Continuing Education
Free monthly massage and additional massages at member rate
AFLAC insurance
Monthly Bonus Incentives
401K
Paid vacation
We are proud to demonstrate the same level of commitment to our therapists as we have for our clients. Apply today by submitting your resume to: jackiemartinez@elementsmassage.com attention to Jackie Martinez
We look forward to speaking with you!